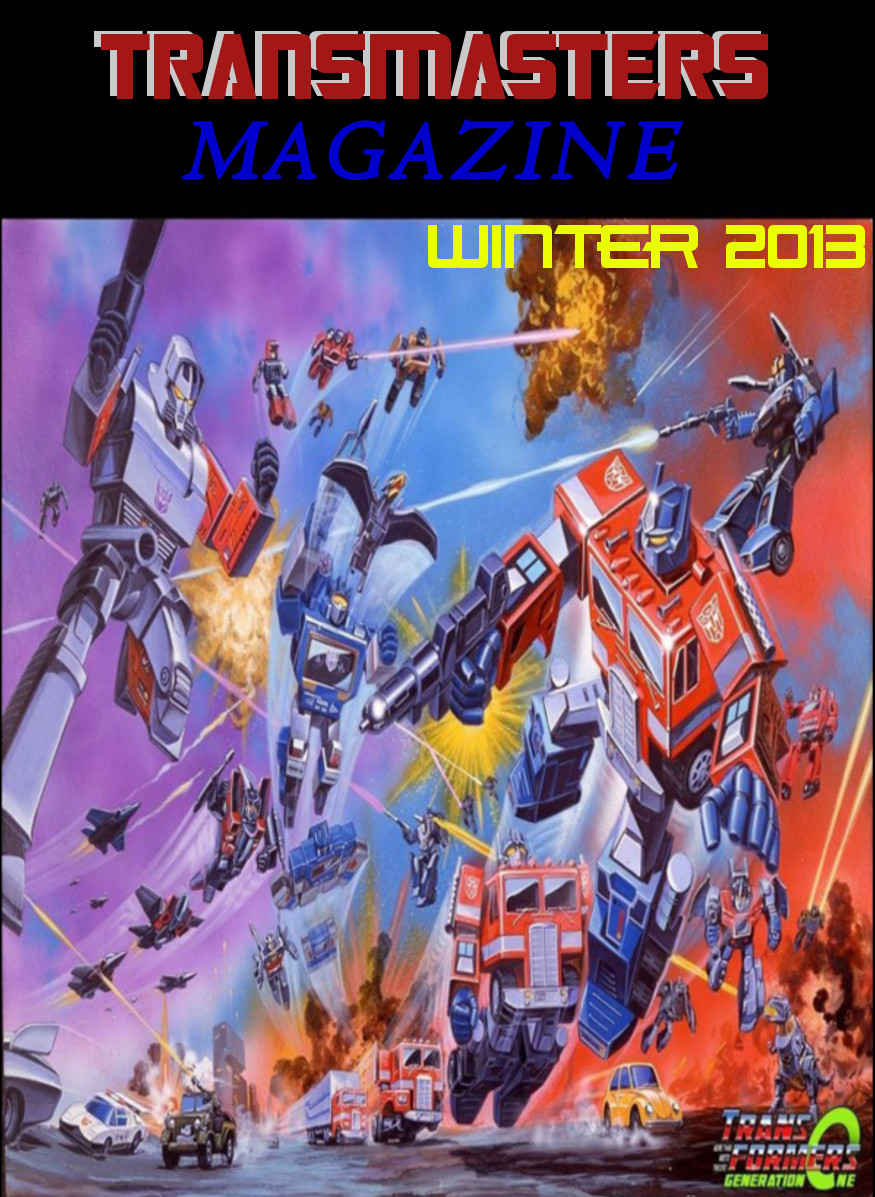 INTRODUCTION

Beast Hunters has begun! The third and final season of Transformers Prime (along with the accompanying toyline) is here! What will the Predacon faction mean for our heroes? Will they matter or end up marginalized in the grand scheme of the story? Time will tell. So far the the toyline looks fairly decent--especially the new characters (I'm less excited about the established characters with new add-on weapons/armor, but oh well....) This issue sees a review of the Predacon Commander Predaking!

On the comic front, we have the return of the TF Spotlight series from IDW as well as a collection of the Fall of Cybertron web comic, a new IDW web series from Flint Dille called Monstrosity and Regeneration One thunders onward. There's no shortage of reading material.

Look for new content this issue from Johan Piest, Camille Mauro and Jay Gutzman. Also, part two of Crimson Destiny! We certainly welcome contributions from all--be it stories, art, articles, etc. Let's keep Transformers rocking on for years to come! :)

Til All Are One!
Thunder














Transmasters Magazine.

Issue #17, WINTER 2013








REVIEW: Recent TF toys (part one)
FICTION: Beauty and the Beast, part two (by Camille Mauro)
REVIEW: Recent TF toys (part two)
COMIC: Transformers Legion, part three (by Johan Piest)
REVIEW: Fall of Cybertron video game
REVIEW: Transformers Prime video game
PROFILE: Dihydras (by Jay Gutzman)
PROFILE: Faezius (by Jay Gutzman)
PROFILE: Ding-a-Ling (by Jay Gutzman)
PROFILE: Diveskin (by Jay Gutzman)
PROFILE: Doomflight (by Jay Gutzman)
REVIEW: Prime, Season Two Blu-ray
REVIEW: Rescue Bots: Roll to the Rescue DVD
FICTION: Crimson Destiny, part two
Comic Round-up








Unless noted, this issue was produced by Tony "Thunder" Klepack. Contributions for future issues are welcome and encouraged!

(Some stock graphics were designed by Peter Phelps. Thanks to him for his many efforts).


The Transformers are Copyright and Trademark 2013 Hasbro/Takara Tomy. All rights Reserved.
This publication is not affiliated with nor endorsed by the above companies nor any of their licensees.

The TransMasters are a Non-profit club for and by Transfans.