MAGAZINE ISSUE 4
---
2007 Movie License Madness
By: Peter "Pierrimus" Phelps
Hasbro Properties Group (HPG) has gone all out to try to make sure the new Transformers brand is placed onto just about anything possible. I've probably spent way too much of my money over the last month trying to get some of this stuff. So here I present my small glimpse at the items that I've bought so far.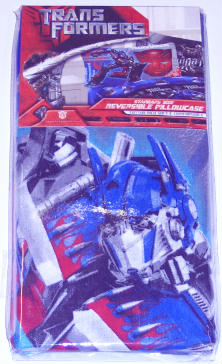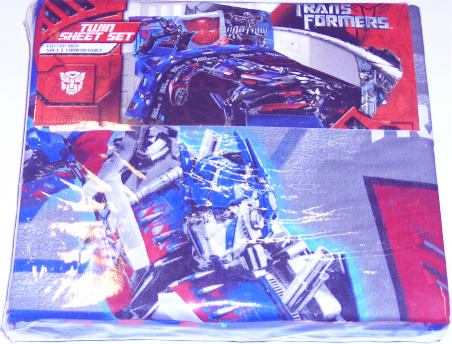 What kid doesn't want to turn there bed into a Transformers poster board? Here we have the sheet set by Franco Manufacturing Company, Inc. Although they show a bed with two pillows covered, there is only: one twin fitted sheet (39"x75" mattress) this is in a blue with the Autobot/Decepticon logos and "Transformers" printed on it. (Since I don't have a twin I was thinking about whether this would be enough material to make an 4XL dress shirt...probably not so I'll have to get another set or see if anyone's carrying the same TF pattern fabric.) One twin flat sheet (finished size 66" x 96") with a pattern of the various Autobot and Decepticon characters from the movie. This would make a nice throw if you don't want to use it on a bed. Then the one standard size pillowcase (finished size 20" x 30") with Optimus on one side and Megatron on the other. Since I do usually have two pillows, I went ahead and purchased the single pillowcase above. These were purchased at Kmart, the set was on sale at the time for $16.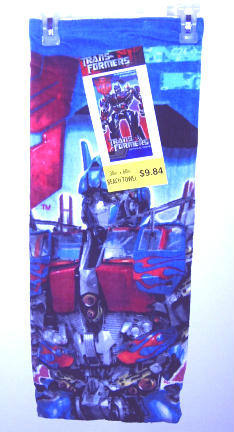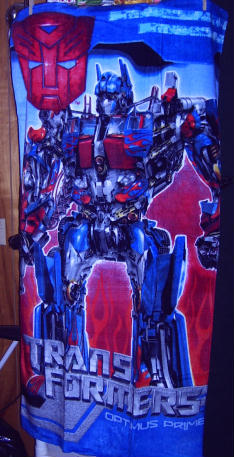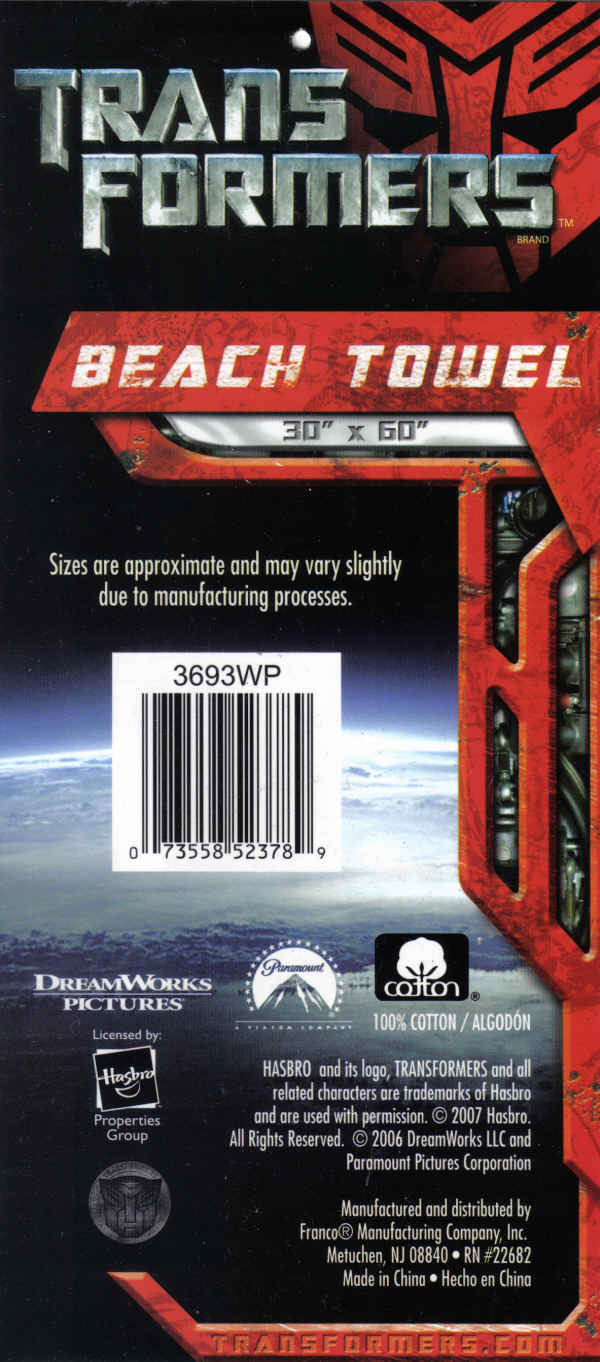 Next in the textiles department is the Optimus Prime beach towel. (I never had one during G1 and this is cool. Though wish they had a bigger selection than just OP here since I bought 4 at the time: 2 for my niece and nephew and 2 for me.) These were bought at Walmart and I think the images speak for themselves. The same company made these as made the sheets above.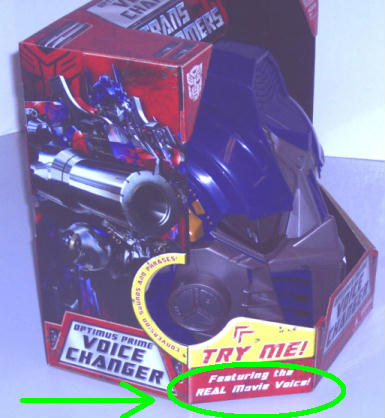 Next we have the Voice Changer helmet. Yes this item is made by Hasbro. The part you want to check out is the section that says "Featuring the REAL Movie Voice" (the part circled in green to the left), this means you get to hear the lines read by Peter Cullen. Target had another version that did not have Mr. Cullen reading the lines, which I think is pretty lame and parents will get confused/upset when they buy the helmet and learn that the neighbor's kids have a "better" one. I like the fact that this was designed to accommodate both children and adults (I can wear it over my big fat head even when I wear my glasses). At first the thing is set up so that if you press one of the buttons all you get is to listen to the read lines. There is a little switch that changes it from that mode to fully "on" which allows you to hear Transformation sounds and to be able to have it change your own voice. I think the only thing that would've made it cooler is if you had a button to make the optics light up, though I'm not sure you'd be able to see outside the helmet past the reflection off of them...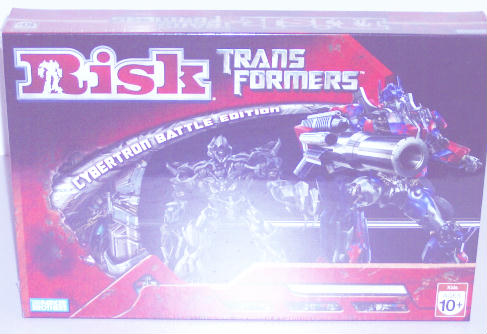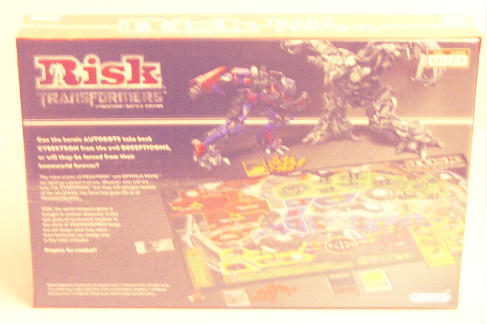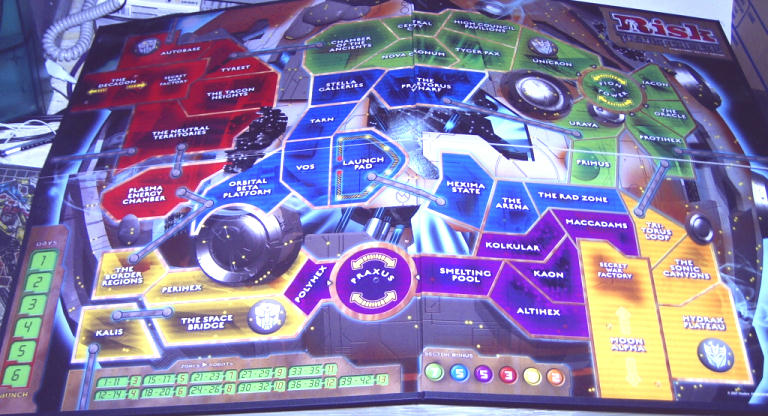 Another Hasbro/Parker Bros. Creation is the TF Movie Risk game. I have actually not yet played the game. It is meant to be played with 2 to 4 players. Thus, we have Optimus and Bumblebee as the leaders of two sections on Cybertron and then Megatron and Barricade as the leaders to their respective sections of the map. I get a bit of a laugh at some of the names of the sections (zones) on the board. Primus, The Oracle, Iacon and Unicron are all in the green section which is controlled by leader: Megatron? Optimus controls the red zones and he gets the generic Autobase as his start zone. He has control of the Plasma Energy Chamber. Bumblebee has the four yellow zones and starts at the Space Bridge. Barricade has the orange zones and starts at Hydrax Plateau. Within the other regions there is Polyhex (shouldn't this be in the Decepticon controlled zones to begin?), smelting pool (same), and Tarn. I question why the Neutral Territories is in Optimus' zone and why the High Council Pavilions is in Megatron's? It has been a very long time since I played Risk and I'll definitely be reading the rules a couple of times before trying to play this game. I bought this at Target.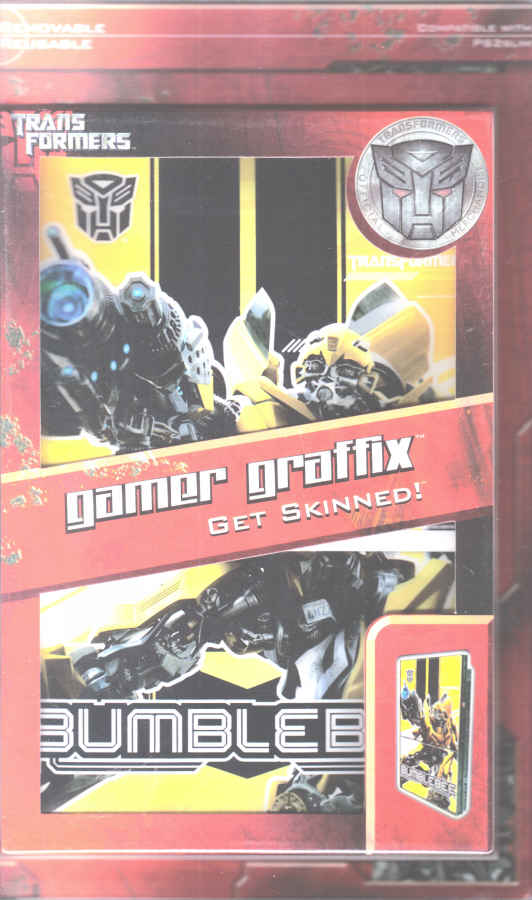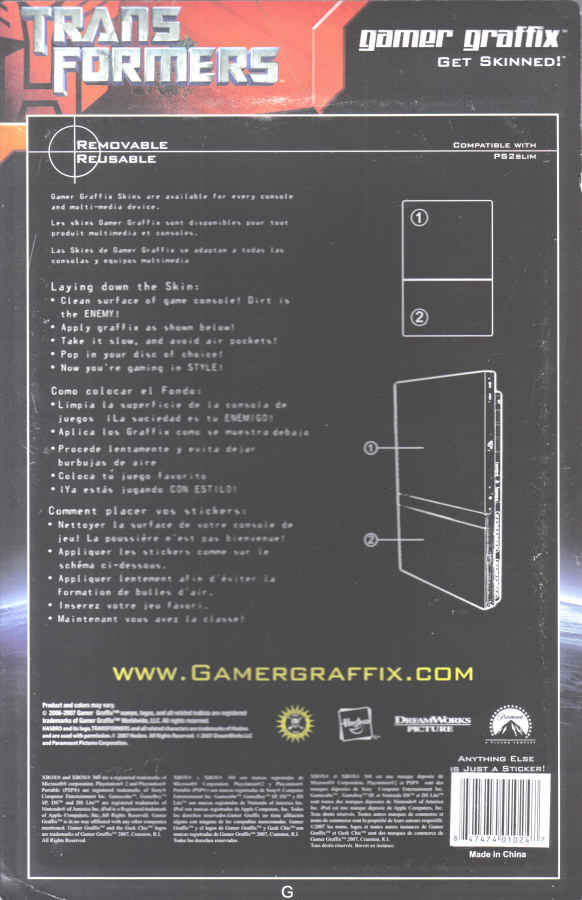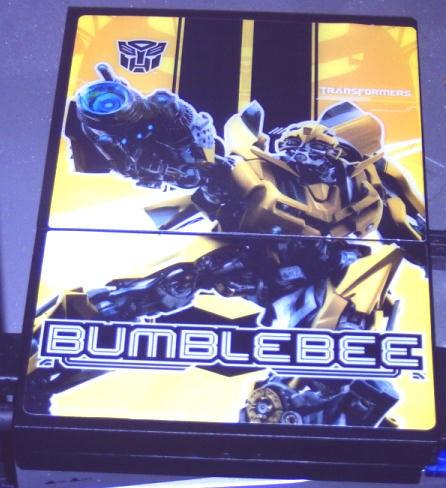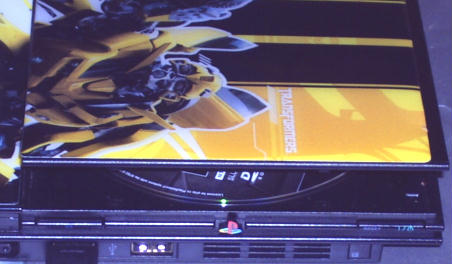 Next here is something I've never really been interested in buying until the Transformers, a "skin" for my PS2 slim. Now when I think of "skin" I'm thinking one of those thin pieces of printed plastic that use static to cling to a plastic surface. This thing is more like those old puffed up stickers. The plastic they used to make the package was so thick when I tried to cut it off with an Exacto style knife I was having a heck of a time trying to not damage either the skin or the package itself, not to mention trying to keep from cutting me--remember always cut away from yourself (I usually use this technique if I want to preserve the packaging on my TFs, etc.). I think I still ended up putting a nick into the top right corner of the main piece. The plastic they used in both the package and the "skin" ended up sticking really well to each other and again I was having to be cautious not to damage the sticker as I tried to pull it free from the packaging. (Perhaps it was too much to put a thin piece of Saran wrap in there?) Another drawback is the sticker's weight. If you keep your PS2 slim standing upright then you will have no problem here. But, if you are like me and have it lying down as shown in the pictures above, your disk tray lid will only open about how much the right most image above shows without assistance. (The spring is not meant to push more weight than the lid itself.) I purchased this at my local Game Stop when I went in to get the PS2 version of the Video Game. That'll be a separate review. I don't want you to think this isn't a cool item, I'm just warning you to the difficulties I had. Once it was out it took less than 20 seconds to apply, after I had cleaned the surface well with some glass cleaner.
Now I'm going to move to some of the more interesting party type items.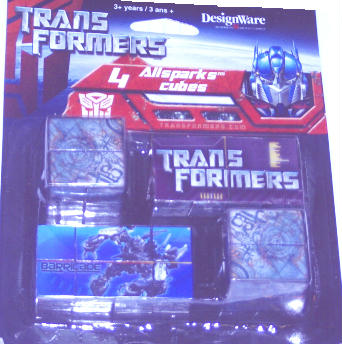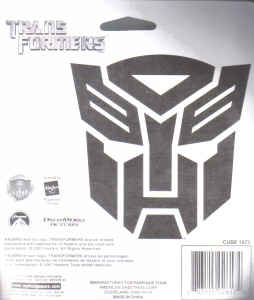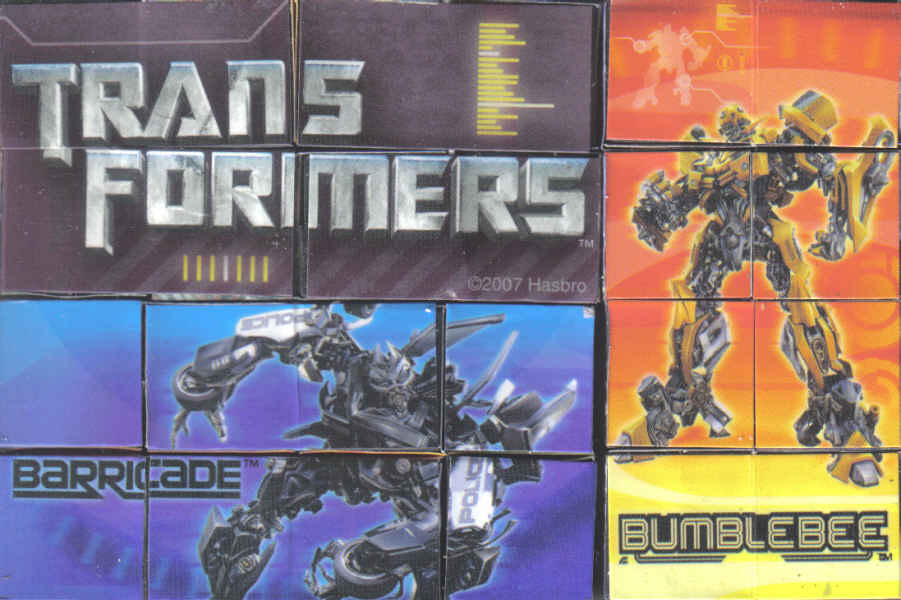 Here we have the Allspark Cubes, if you note it says "Allsparks" why is it double plural? These are made by American Greetings Corp. who have www.agdesignware.com listed as their web page on the back of the package. These are puzzle cubes that each will display the above 3 images of the TF logo, Barricade and Bumblebee if you can figure out how to twist the cubes to align them. Below are all 6 faces of the cubes, just for those who would like a better look. I think these will also make great play additions as kids could reenact the movie sequences with these toys.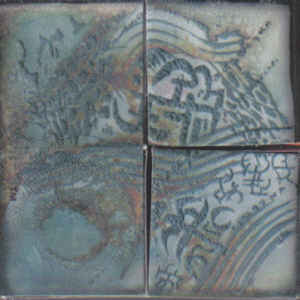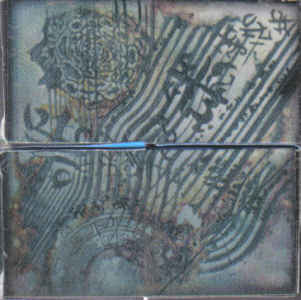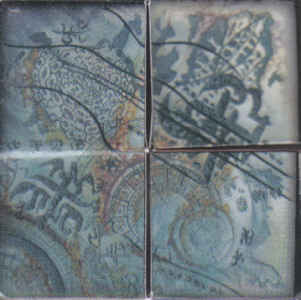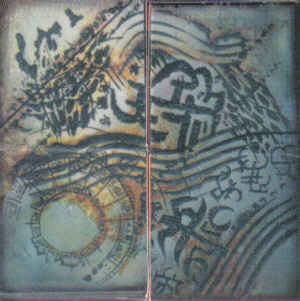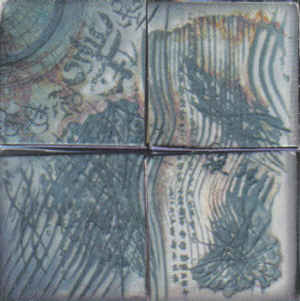 Below we have a party tray and some stickers. These and the above item were purchased at Kmart in the cards section of the store.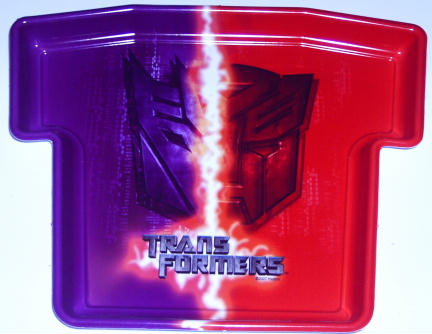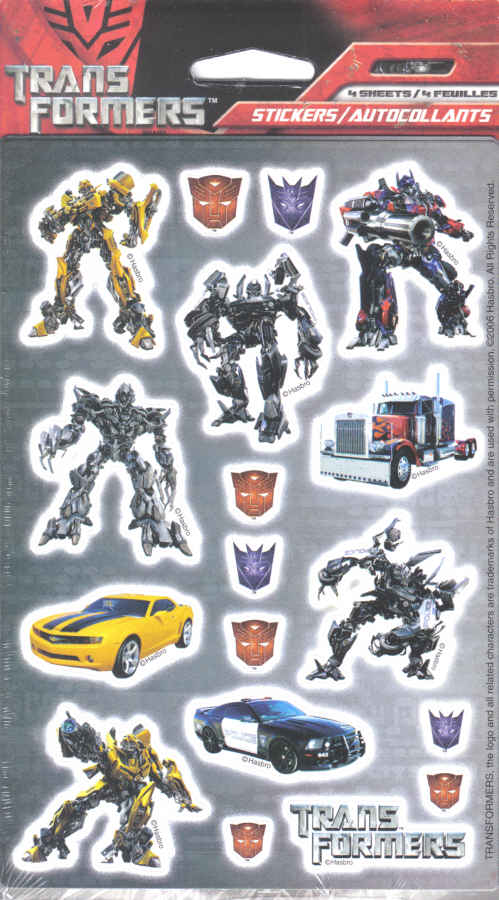 Lastly we have some of the Movie Cards. These were on sale at my local Hollywood Video. I bought 4 packs and only had 2 of the foil exclusive cards (there are 10 total to collect). It was strange to read some of the bio cards. I have 2 about Ratchet, one seems to follow the G1 character whereas the other is more in line with the toy's character.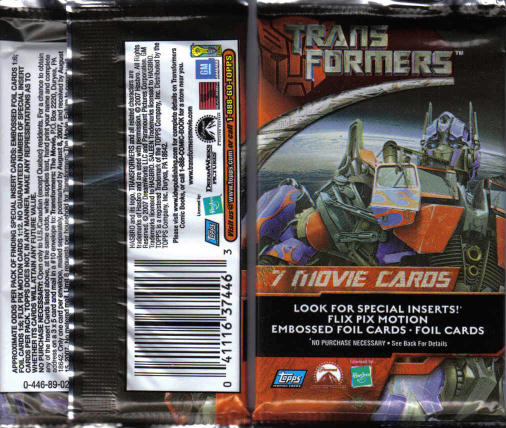 See the article on the Lunchables items to view their Movie related images.
---
The Transmasters club is a nonprofit organization. Transformers is Copyright and Trademark 2007 Hasbro/Tomy, all rights reserved.