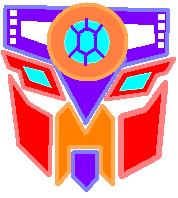 ISSUE 3 NOVEMBER 2006
---
TransMasters Cybertron:
Part 8: Collisions
Rancore was perhaps one of the toughest and oldest of the deep-dweller Shrikes. His stone exterior was several shades more gray than black and his angles were worn through age so that they were more like smooth polished stone. That did not mean that he was any less tough than the younger Shrike whom followed him against Saphire's wishes. In fact, it was probably due to his experience that they were able to defeat the bug Decepticon with as little as four Shrike casualties.
He led the group back down the tunnels. They were now a little more cautious than before and not as certain as they were when they went against the Matriarch's instructions. Rancore knew that he would have to give them a victory soon or they'd begin to doubt his leadership. There was the crux of his current situation, Saphire might have been correct, but he would not allow the doubt to change his course of action.
The group shuffled slowly due to the fact that a couple of the survivors of the bug Decepticon's attack were wounded. They wanted to head back down to their deep-dweller caverns where they could provide some care to their wounded. Rancore hoped to have them patched back up and ready for action soon.
They came to a dark junction between several tunnels before they realized that there was any danger around them. There was a rumble in the stone walls just prior to the tunnels lighting up to a brightness none but the most foolhardy of Shrike had ever glanced, close to that of the star Solar Wind Planet orbited. They were temporarily blinded by the brilliance and were suddenly in disarray. Then Rancore heard the screams of his friends, metal scraping against stone, and the most hideous laughter from some of their attackers.
Rancore had spent too much time deep in the inner sanctuary of Solar Wind Planet. Sometimes there were places that did not have either the glowing red magma or the dull light from the moss that sustained the Tektronian people. Here was where he honed his reflexes and he used these skills to keep himself alive. More through feeling the air and movements around him did he dodge the first slice of a Decepticon's blade. He whipped out with a sharp spiked arm to slash back at his attacker, he felt the stone glance off heavy armor. But, now he knew exactly where the attacker was located and his vision began to clear enough for him to make out a blurry shape. To the casual observer the battle would have looked entirely like some kind of orchestrated dance between the combatants, but to Rancore it was a test of skill unlike any he had faced before.
Rancore might have had a chance against just this one enemy, but there were many more that were not held by any code of honor. Rancore felt the blow from behind with enough force to nearly crush his head. This time the darkness did not come from an external extinguishing of a light source. He heard a female voice, "Leave this one alive," just before he lost consciousness.
It was a mess, one that Feonax had hoped to avoid, but she had given the Decepticons under her command a wide leash in order to allow them to blow off their pent-up energies. She was intrigued by what she saw of the corpses of these Tektronians, their inner workings beyond the stone exterior were very similar to Transformers. That these backwater imitations of Transformers were so familiar in internal mechanism was a little too close for comfort. She did not want to get drug into any debate as to if the Tektronians were somehow long lost cousins through the whole Cyber Planet Key thing. The others did not even seem to notice as they fought over the largest chunks as souvenirs of their bravery in battle, they would probably trade them for Energon as soon as they returned to Cybertron.
Feonax waited patiently for the leader of this group of Shrikes to regain consciousness. She let a small smile cross her lips when he did wake to the sight of his people's corpses being tore apart still by her Decepticons. She didn't want him to have any other impression other than that he was alive due to her will only. "You are either a fool or too brave for your own good. My name is Feonax and these are my Decepticons. I want information from you and if you swear fealty to me I may be persuaded to let you live. In fact, I might just make you ruler of this miserable baked rock after we're done here. All I want to know is everything you can tell me about the Autobots and this Cyber Planet Key they are looking for. We are also interested in it," Feonax explained with a tone that should have left little for debate.
Rancore laughed in a hysterical tone that took Feonax back a bit. "Do you think that if I knew where this Cyber Planet Key thing was that I wouldn't have already seized it for myself in order to obtain the power to vanquish all of you metal freeking aliens?!? You've brought nothing but pain and death since your arrival and I for one am not going to do anything to help you! You're all a sacrilege upon the Phoenix's universe. The Autobots? I couldn't tell you anything more about them save that the Strike character has become involved with Saphire in a very unnatural manner." Rancore spat some fluid that was leaking into his mouth onto Jettison. Jettison reacted after he received a nod from Feonax for her permission. He backhanded Rancore's face with a swift blur of motion, cracking the elder Tektronian's nose.
"We know Strike, he's the leader of the Omnicons that have guarded us so diligently over these years of imprisonment. I want to know more about Saphire, who is she and why is she important to Strike?" Feonax asked. She might be able to use the relationship to her advantage. In all the time that the Decepticons were held captive only a couple of Tektronians had ever visited their prison cells, one being Jade whom was now dead.
A sticky blue fluid oozed out of Rankor's nose while he glared in anger at Feonax and Jettison. He was propped up against the side of the tunnel where the actions of the Decepticons to the corpses of his comrades were fully in view. "You might as well kill me and get it over with, I will not help you," Rancore stated. "And may the Phoenix curse you to the end of your days!"
"Sorry you feel that way, but I am not in any mood to just give you release right now. One way or the other, you're going to serve the Decepticon cause," Feonax stated. She nodded to Jettison before she strode away. Jettison struck Rancore a swift blow that knocked the Shrike back into unconscious bliss. At least here in this type of oblivion he did not have to contemplate all those lost because he let his own pride come before the welfare of his people.
Pierrimus sat still in front of the great Phoenix statue in the main hall while the Autobots and Tektronians milled about with uncertain glances his way. He was attempting to meditate while the others tried to ensure that the entrances were well guarded. He could feel the presence of the fifth Cyber Planet Key and he was almost certain that it had something to do with the statue before him. His discussions with Saphire were not the most reassuring, but there were indications by the much older Tectronians that this statue was perhaps the very first of its kind. All others were the people's attempt to duplicate it. He was trying to tune into the vibration of Primus in order to ensure a connection to the artifact they sought. Some of the Tektronians were becoming restless and were unsure they wanted some foreigner so close to their source.
He was interrupted in his meditation as a young Tektronian rushed into the chamber and a murmur of dismay spread through the assemblage. Pierrimus stood to see what was causing the commotion. The young Tektronian was holding a charred and disfigured head in his hands while he cried. Evidently the head had belonged to his father and the group recognized it as such. Some became angry while others were joining the boy in sorrow. The boy was asked many questions by the adult Tektronians and at times he could not answer them all.
"It's time sir," Semier commented with a nod toward the boy. "We need to act now and give the Decepticons a good bashing before they can harm any more Tektronians," Semier added. The other Autobots were also in agreement. They awaited Pierrimus' orders.
"Yes, follow me and keep the Shrikes as a reserve here," Pierrimus stated with a sense of sadness. The Autobots probably thought it was because of the poor Tektronian boy. He hid well the fact that he was sad because of what he knew he'd eventually have to do when he faced Feonax. The Autobot warriors that were able to transformed into their vehicle modes and collected as many Tektronian Shrike riders as possible before the group headed back into the caves toward the place the young boy had come upon his father's remains. It was a quiet and somber progression to the area.
"Be cautious warriors, she will not have gone far," Pierrimus warned while he scanned the dark caverns near the carnage. He had every one of his sensors calibrated to detect even the slightest of inputs that might indicate the level of danger around them. He wished Strike had been well enough to be there since these looked like caverns the Omnicons created for the Tektronians. The cavern was warmer than most of the areas here under the surface of Solar Wind Planet. Pierrimus could guess that the reason was because they were not far from that very surface with perhaps only a dozen meters of stone and dirt between them and the scorching sunlight of the nearby star.
They proceeded down the dark stone corridors, the Tektronians more anxious to see some retribution than paying attention to their surroundings. "Autobots, spread out and make sure they don't fall into any traps," Pierrimus ordered over their interlink radio channel so that only his people could hear the message. He stood nearby a group of four Shrikes that were female and they looked worried. "What's wrong?" Pierrimus asked.
"Rankor, the leader of this rouge group of Shrike, is not among the casualties," one of them replied.
"Perhaps he escaped," another commented. She did not sound like that was a good thing for the hunting party.
Pierrimus' proximity and radar sensors both confirmed movement to the group's rear and front before he could request any further information from the female Shrike group. "Get down," Pierrimus ordered urgently before he tossed them to the ground. He saw the missiles streak into the hunting party and several were caught unaware. The cavern shook and rocks fell out of the ceiling while the concussive force crashed into his back. He quickly pushed off of the female Shrikes and spun to assess the situation. He saw that his Autobots were already returning fire, mostly unharmed by the missiles.
"Rhettro watch your back, Shieldcore help Quickshot block the front, Semier try to cave in the cavern behind us with your missiles, Whitewalls help the Shrike get free of the fallen stones, Quickroll give me some cover fire," Pierrimus ordered rapidly. He pulled the four female Shrike toward the center of the defensive perimeter. He was able to get a small reprieve after he fired a few volleys toward the rear cavern ceiling. This was not the normal tactics of Feonax and most of the Decepticons here were known more for their animal ferocity than their cunning. He wondered why they hadn't been rushed to create chaos before the surgical strike of distance weapons.
About the time that he concluded that Feonax must not be leading this particular group of Decepticons the assault by the more ferocious animal-based units struck. They clashed directly with Shieldcore's force field and he held out as long as he could, but the creatures broke through by digging holes in the surrounding stone. Within moments the Autobots and Tektronians were fighting for survival against the fierce anger of the Decepticons. Pierrimus barely had time to contemplate the fact that he still did not identify Feonax amongst the conflict. Pierrimus had to change tactics quickly because in the close quarters fight that now ensued his weapons were fairly useless as anything other than clubs against these monsters.
Metal tore and loud clangs echoed off the stone walls. The next few moments seemed to drag on while he fought. The other Decepticons had entered the close quarters battle and the Shrike were trying their best to avenge their fallen. Pierrimus should have noticed when Feonax entered the battle, but he was more concerned with the lives of those Primus had placed in his care. To Pierrimus the burden of leadership was to ensure his people did not die and came home, even if he failed in his mission.
The cavern wall behind him had begun to glow from heat, but his sensors had not registered the temperature increase due to the high ambient temperature in the cavern. By the time he realized the threat, it was too late. Red hot magma stone had flowed to touch his feet before he was attacked from behind by Feonax. There was a sudden pain in his shoulders where she bit down her strong dragon mouths. "Today you die Autobot," Feonax muttered with her mouths full.
"Not if I can help it," Pierrimus painfully stated before he ignited his jet thrusters on his feet. They began to rise toward the cavern ceiling. He felt the sheering of Feonax's teeth against his wings while she tried to use her feathered wings to change the direction of their travel. They spun while still headed for the thin stone ceiling above. Pierrimus wrapped his arms around Feonax's torso so she could not escape when she let go of his wings. She cursed him while she began to blow fire onto his arms to try to break free. It did not help as they collided at full speed, breaking through the planet crust to emerge into the full heat of Solar Wind Planet's surface.
"You're a fool, do you not think I can handle the heat Autobot?" Feonax asked. She transformed into robot mode and broke free of his grip. She then began to measure him up while he activated his internal cooling system designed to keep his systems operational at the high temperature. "How did a weak Autobot like you ever best Silencia?" She asked with disgust in her voice.
"The same way I'll defeat you," Pierrimus stated sadly. He took up a position and waited for her to make the first move. They floated above the planet on their respective flight capabilities. To those below the next few actions would have looked more like a flying ballet than a serious duel. For every move she made to attack him he used an equally elegant move to deflect her actions.
She quickly became frustrated with the affair. "Who are you?" She asked with a mix of wonder and anger. She was seldom so easily avoided in a battle and she still could not get over the feeling that he was somehow familiar to her. She performed a move that most Autobots would never be able to counter, only to have him thwart it with an expertly executed reversal that left a dent in her right shoulder plate. "How?"
"You were always too impatient to fully train with master Bludgeon. There were a few lessons that you were too busy to learn. You lead too much with your left Fens," Pierrimus taunted. He knew he was perhaps pushing her a bit too much. The taunts were probably too close to what he did to her back when he was a Decepticon too. He was probably risking too much by using his old pet name for her, and he hoped that perhaps if she did know who he was she'd cease her attacks. Wishful thinking is usually foolish.
"Fens?" She stopped for a moment to try to remember who used to call her that. Then there was true anger behind her smoldering optics. "Pedro? You can't be Pedro! No, I left him and he died a long time ago. You're a pretender," she could not come to believe so easily. She launched into another round of useless attacks. Fire belched out of her hands as she tried to inflict damage by just coming close to him.
The battle below continued on in their absence and occasionally Pierrimus caught the sound of explosions and laser fire. He could not let his attention be distracted from Feonax while they were caught in this one-on-one battle above the planet surface. He also was monitoring the refrigeration systems in his body, they would not allow him to remain in these high temperatures for too much longer. "If you stop your carnage against the Tektronians I will guarantee you safe passage off Solar Wind Planet back to Cybertron," Pierrimus offered.
"As prisoners? I think not. We can find our own way off this rock once you are all dead and the Cyber Planet Key is in my possession," Feonax laughed. She slashed with her tail mace in the hope that its acid stinger would make contact with her enemy's armor. She noticed that he was surprised that she knew of the Autobots' mission. She delighted in his reaction.



---
Transformers are Trademark Hasbro. Copyright Hasbro/Takara Tomy 2006, all rights reserved.
The TransMasters International Fan Club is a nonprofit organization. If you beleive there is some problem please contact Pierrimus.
Visit the main site at: www.transmasters.org
Visit the BLOG at: transmasters.blogspot.com