APRIL


TRANSFORMERS: ROBOTS IN DISGUISE #28: DAWN OF THE AUTOBOTS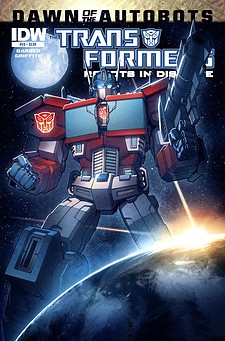 John Barber (w), Andrew Griffith (a), Casey W. Coller (c), Andrew Griffith (vc), Livio Ramondelli (vc).
EARTHFALL! The AUTOBOTS return to Earth--with OPTIMUS PRIME in command! But what brought them back--and what terrifying secret do the humans hold? A bold new era begins here!
32 pages, $3.99.



TRANSFORMERS: MORE THAN MEETS THE EYE #28: DAWN OF THE AUTOBOTS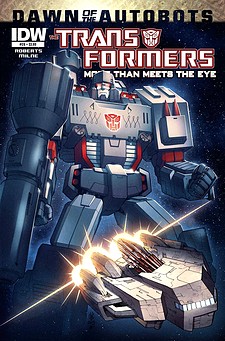 James Roberts (w), Alex Milne (a), Casey W. Coller (c), Livio Ramondelli (vc), Alex Milne (vc).
CERTAIN DEATH, HERE WE COME! MEGATRON assumes control of the quest to find the Knights of Cybertron--a quest that has never before been so urgent, so personal, and so likely to end in tears. An incredulous Lost Light crew is left asking the same thing you are: how exactly did it come to this?
32 pages, $3.99.



TRANSFORMERS: WINDBLADE #1: DAWN OF THE AUTOBOTS



Mairghread Scott (w), Sarah Stone (a), Casey W. Coller (c), Sarah Stone (vc).
WHO IS WINDBLADE? In the aftermath of DARK CYBERTRON, WINDBLADE takes the planet by storm! But where did she come from--and what does her secret mean to the future of the TRANSFORMERS? A powerful new chapter in the TRANSFORMERS saga begins here!
32 pages, $3.99.




TRANSFORMERS: DARK CYBERTRON, VOL. 1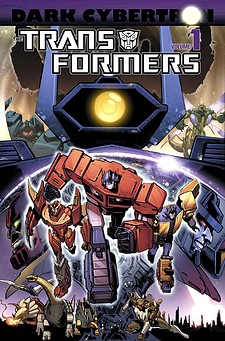 James Roberts, John Barber (w), Phil Jimenez, Andrew Griffith, Brendan Cahill, James Raiz, Atilio Rojo, Livio Ramondelli (a), Phil Jimenez (c)
Shockwave makes a move millions of years in the planning--an ultimate strategy to remake Cybertron and destroy both the Autobots and Decepticons! Collects Dark Cybertron #1, More Than Meets The Eye #23-25, and Robots In Disguise #23-24.
152 pages, $19.99.




TRANSFORMERS LEGACY: A CELEBRATION OF TRANSFORMERS PACKAGE ART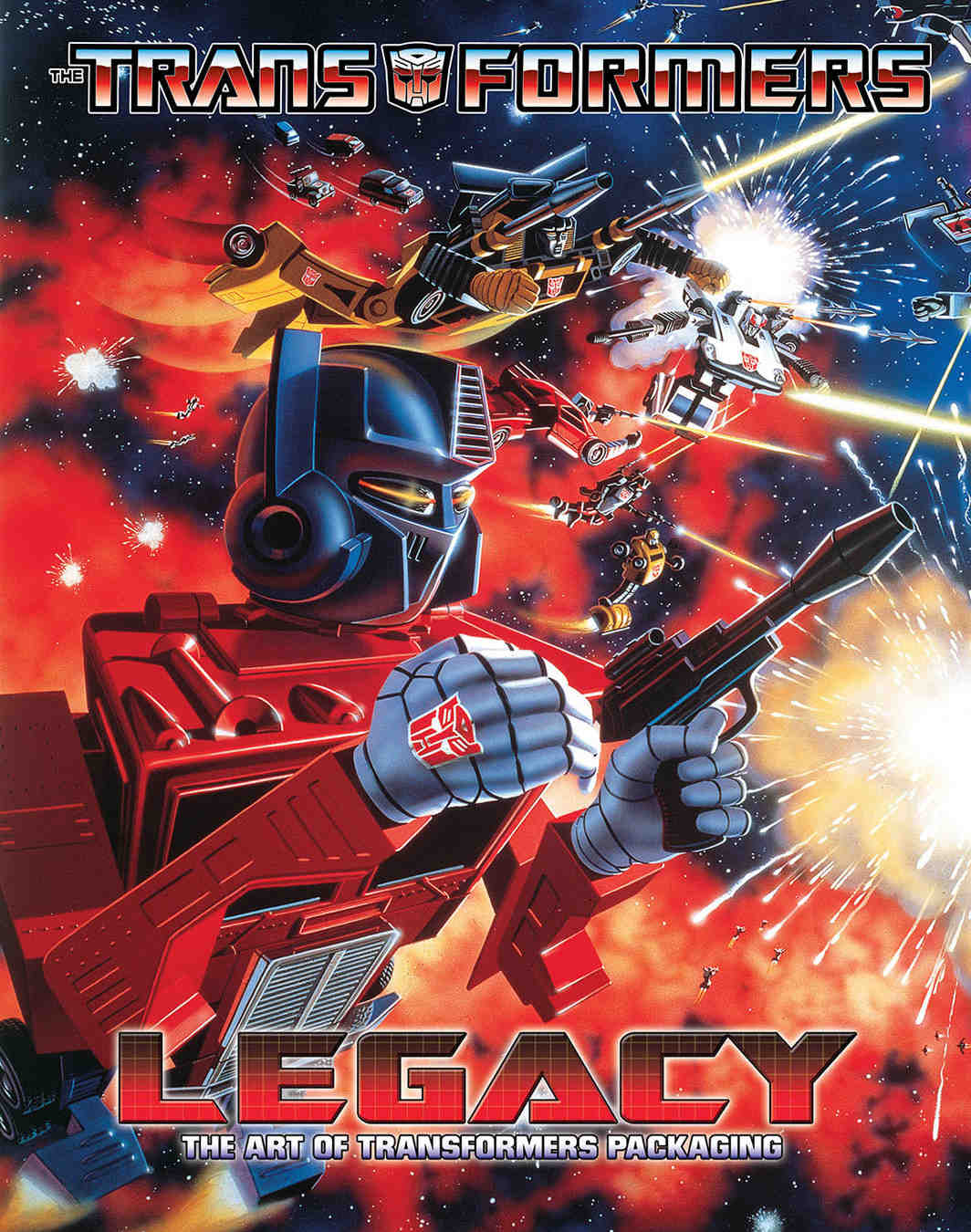 Jim Sorenson, Bill Forster (w)
Remember the thrill of tearing open the wrapping on Christmas morning, discovering a brand new TRANSFORMERS toy in a shiny new box? While the toys were amazing in their own right, what made the packages stand head-and-shoulders above the competing action figures on shelves was the stunning box art. Transformers: Legacy collects hundreds of beautifully airbrushed paintings from the iconic first decade of The Transformers. Essays and interviews from the original illustrators give unprecedented insight into the process behind the art. This book is chocked full of extras, including never before seen artwork from toys that never were, original design sketches, catalog artwork, and more.
300 pages, $49.99.




MAY


Transformers: Robots in Disguise #29: Dawn of the Autobots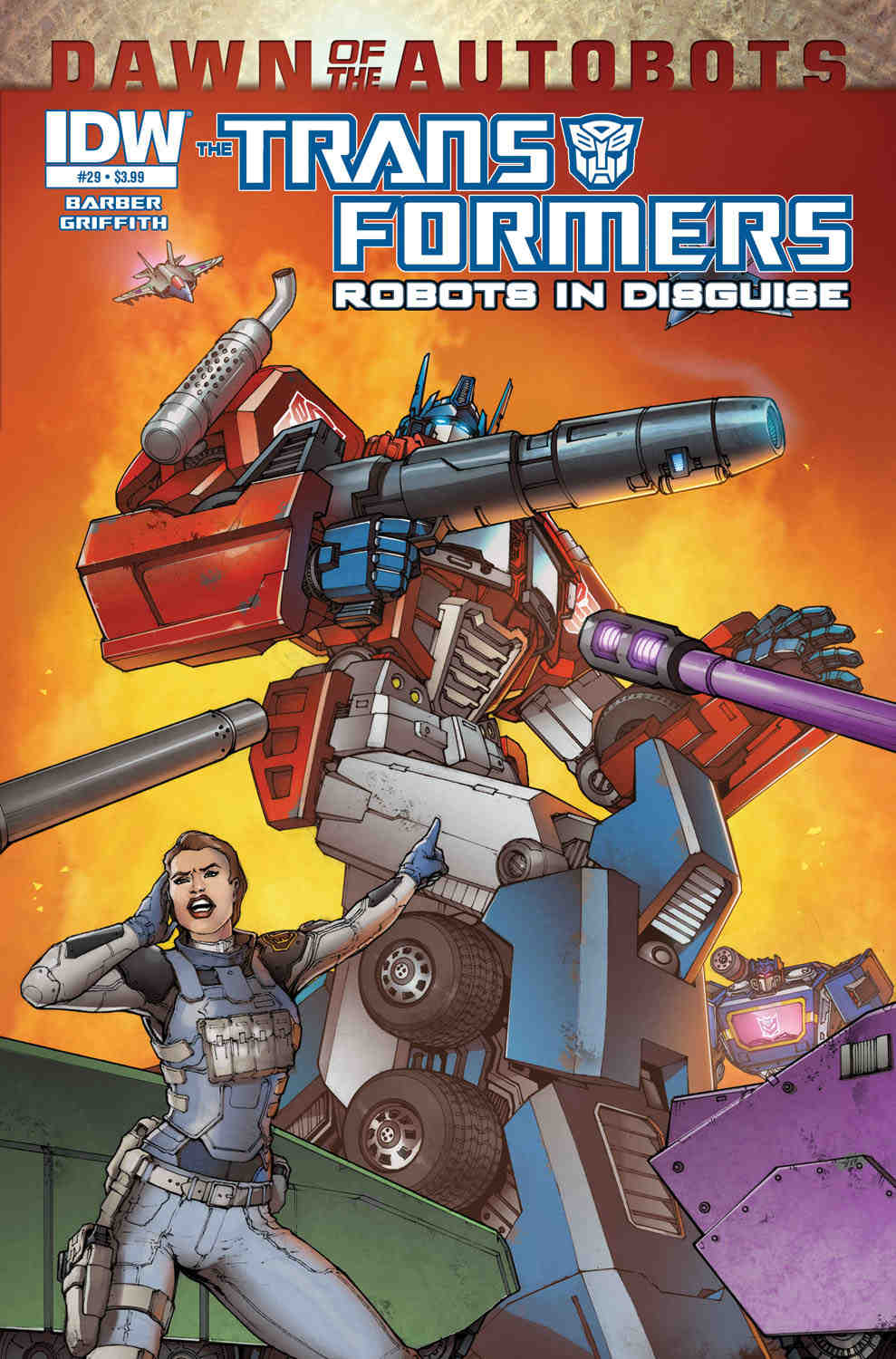 John Barber (w) • Andrew Griffith (a & c)
DETONATION BOULEVARD! Who is MARISSA FAIREBORN—and why does she want OPTIMUS PRIME dead?! And more importantly… how did she start working with one of the AUTOBOTS' deadliest enemies…? Dangerous allegiances form, thanks to the terrifying shape the CYBERTRONIANS have twisted planet Earth into!
FC • 32 pages • $3.99


Transformers: Windblade #2 (of 4): Dawn of the Autobots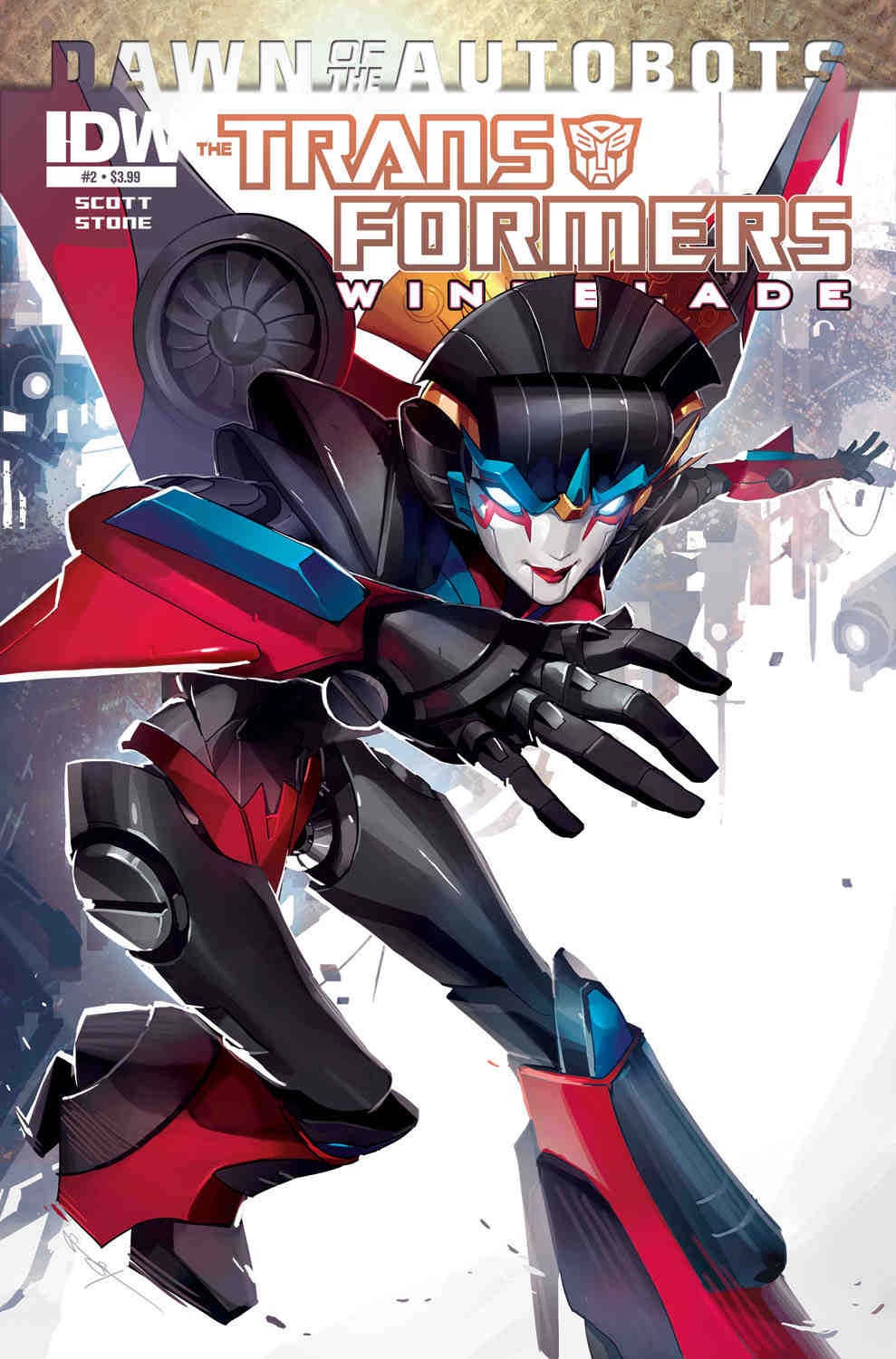 Mairghread Scott (w) • Sarah Stone (a & c)
CYBERTRON UNDER FIRE! Someone is out to kill WINDBLADE—but discovering who means turning to some less-than-savory 'Bots. Can WINDBLADE trust her informants enough to stake her life on them? And who will she turn to when the events of DARK CYBERTRON come back to haunt them all?
FC • 32 pages • $3.99


Transformers: More Than Meets the Eye #29: Dawn of the Autobots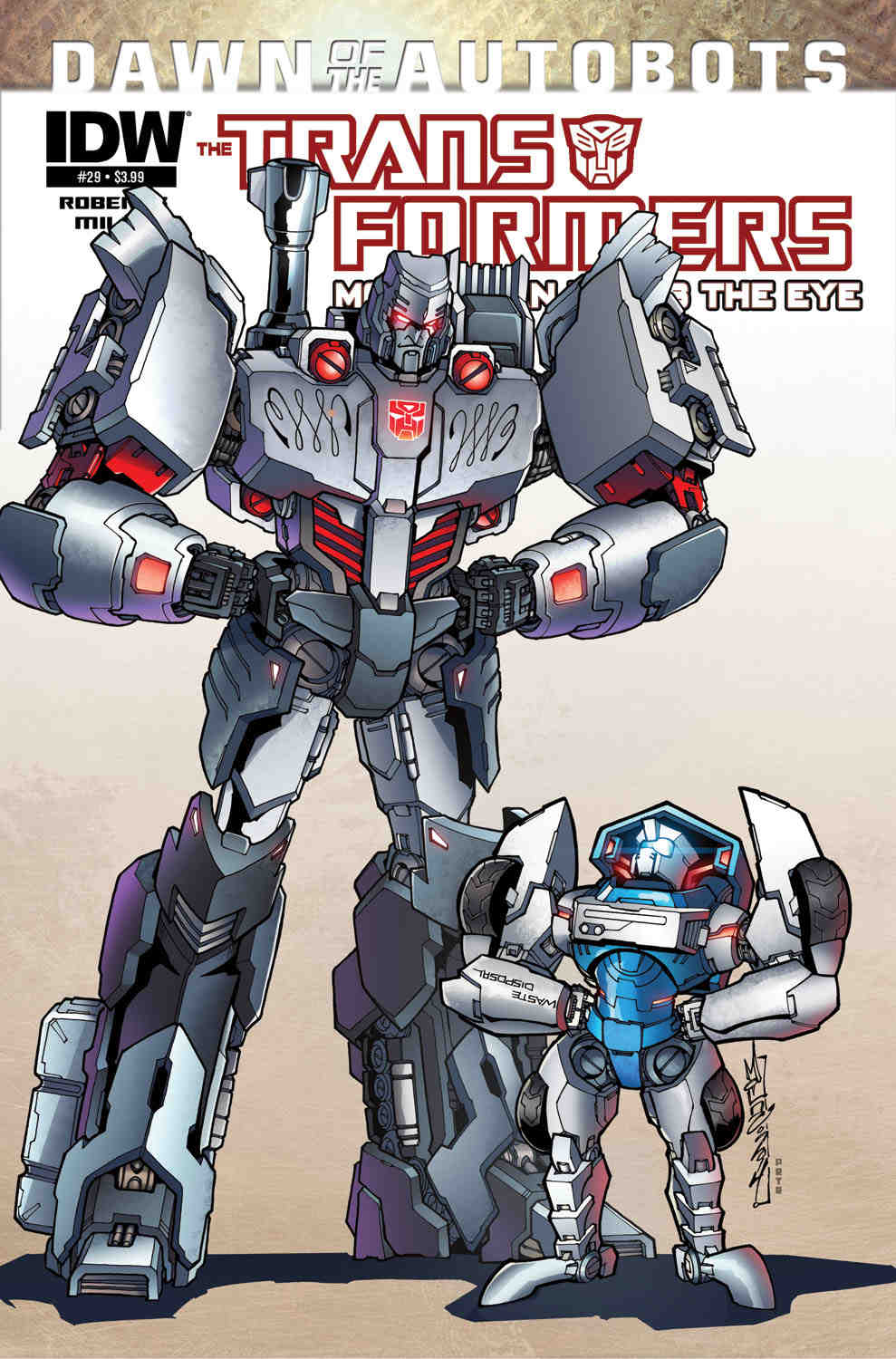 James Roberts (w) • Alex Milne (a & c)
STAND-OFF! While the crew of the Lost Light react to MEGATRON's arrival with characteristic maturity (calling him names behind his back and ignoring him when he speaks) one AUTOBOT is convinced that a more direct approach is needed. Guess what happens when a one-time tyrant is told he's not wanted? Yeah, exactly.
FC • 32 pages • $3.99



Transformers: Robots in Disguise, Vol. 1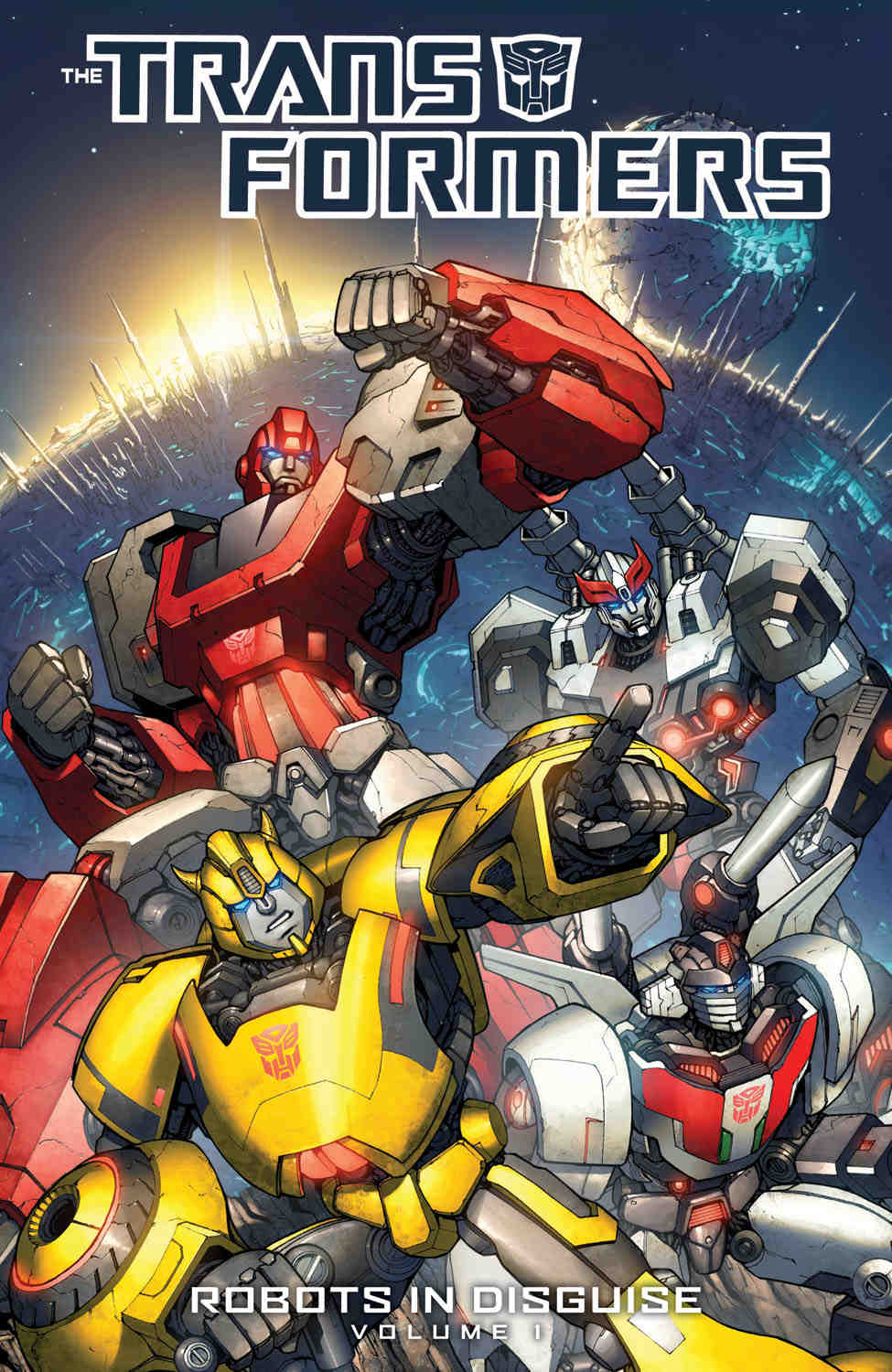 John Barber (w) • Andrew Griffith, Casey Coller (a) • Livio Ramondelli (c)
The war for Cybertron is over—now the hard part begins! BUMBLEBEE and his fellow AUTOBOTS struggle to maintain control of a world without OPTIMUS PRIME! Bumblebee's provisional government is struggling and Prowl defends it against the DECEPTICONS but how far will he go—and who will chose to stand by his side?
TPB • FC • $14.99 • 136 pages • ISBN: 978-1-61377-964-4






Transformers: More Than Meets The Eye, Vol. 1





James Roberts, John Barber (w) • Alex Milne, Nick Roche (a) • Livio Ramondelli (c)
More Than Meets The Eye reunites the fan-favorite creative team behind Last Stand of the Wreckers and sends the Transformers on an epic quest to the farthest reaches of the Transformers Universe and beyond! Also includes the one-shot "Death of Optimus Prime."
TPB • FC • $14.99 • 124 pages • ISBN: 978-1-61377-965-1




Transformers: Regeneration One, Vol. 4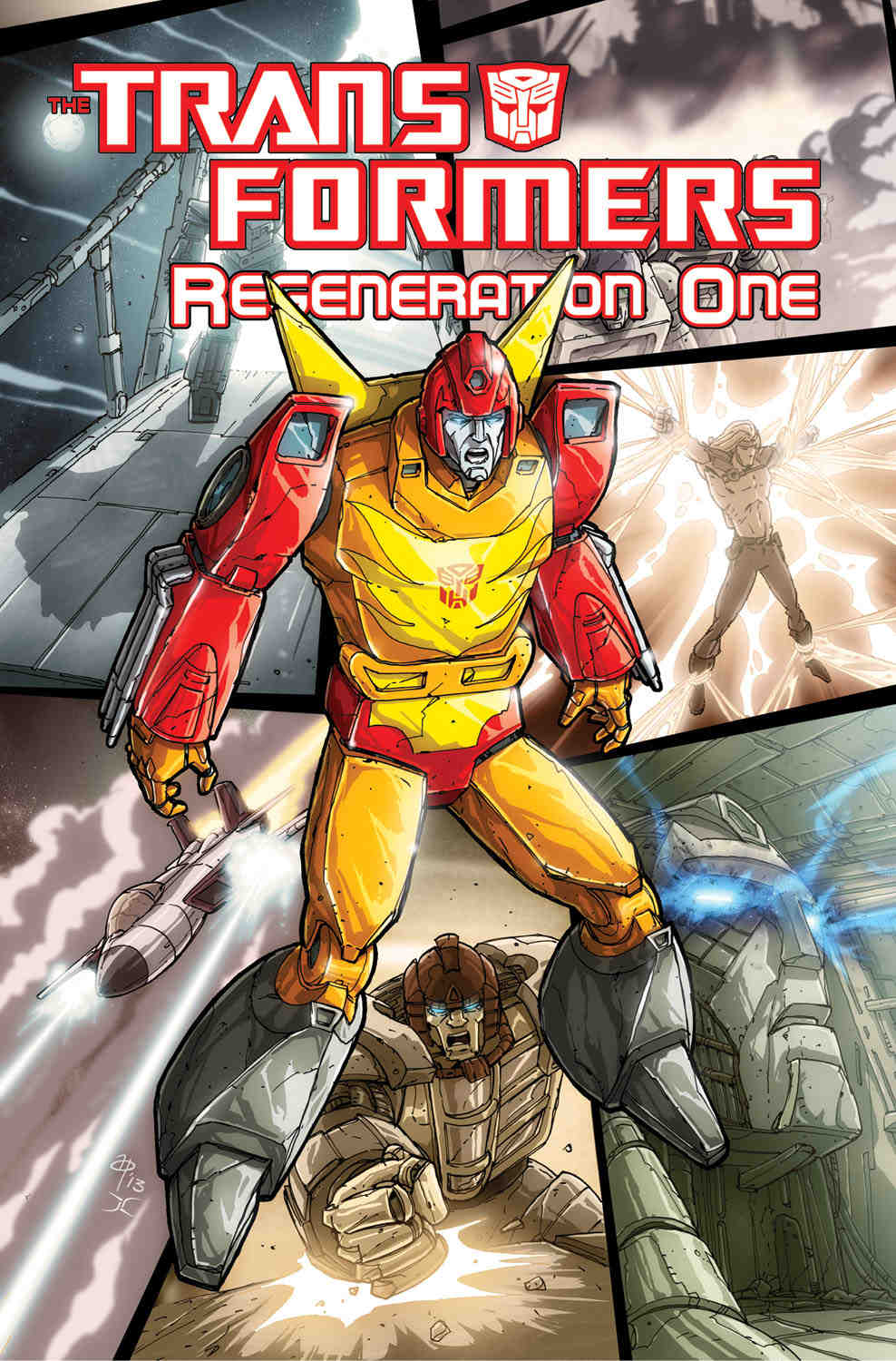 Simon Furman (w) • Guido Guidi (a) • Andrew Wildman (c)
Rodimus Prime struggles to comprehend what is happening as dark forces rise and an invasion begins the war to end all wars. Collects issues #96–100.
TPB • FC • $19.99 • 132 pages • ISBN: 978-1-61377-963-7



JUNE


Transformers: More Than Meets the Eye #30: Dawn of the Autobots



James Roberts (w) • Alex Milne (a & c)
EVACUATION! Is it possible for a starship to object to its captain? That's what the AUTOBOTS are asking MEGATRON as the Lost Light becomes the most dangerous place in the universe!
FC • 32 pages • $3.99



Transformers: Robots in Disguise #30: Dawn of the Autobots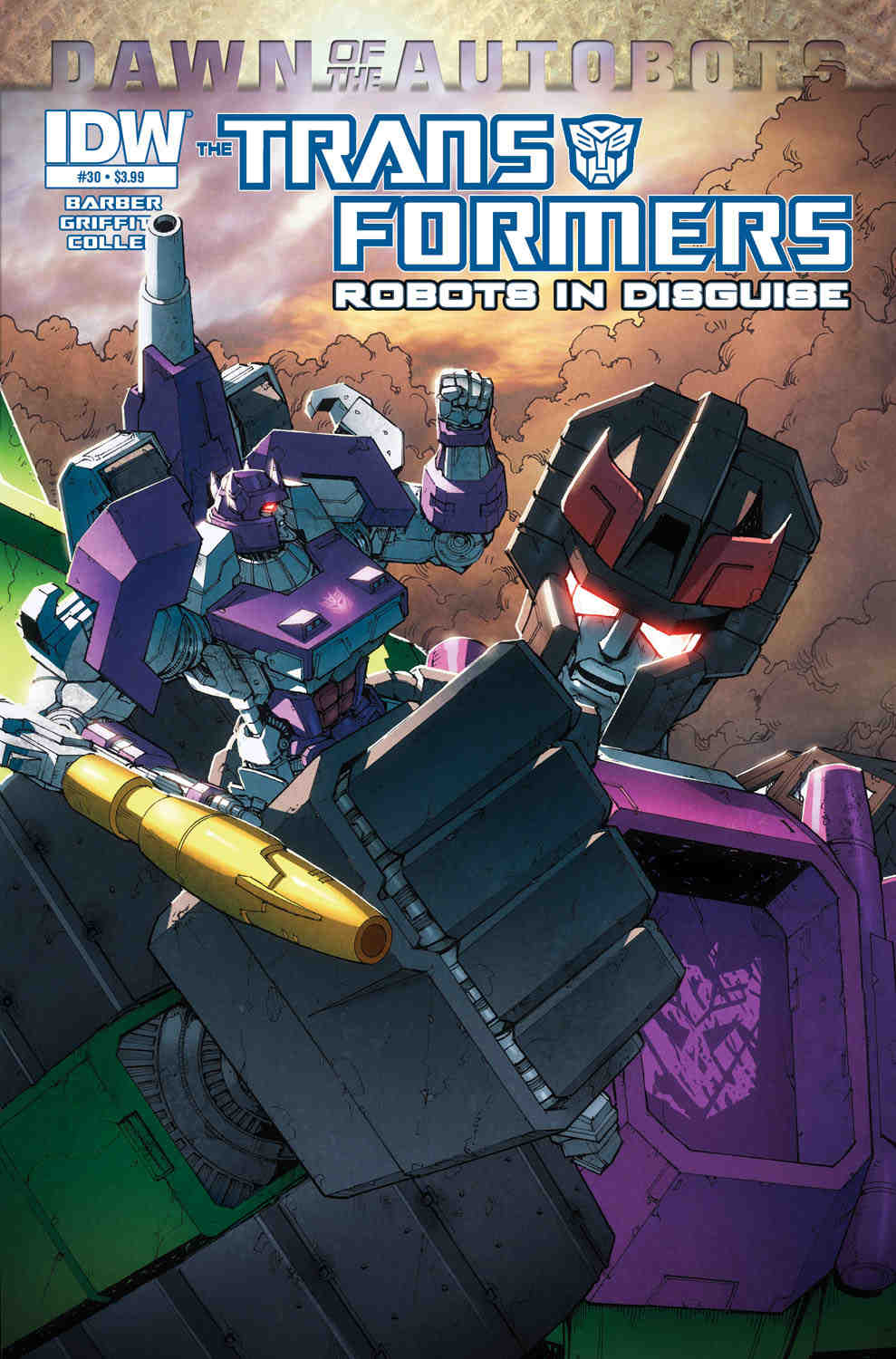 John Barber (w) • Andrew Griffith, Casey W. Coller (a & c) • Griffith (c)
GALVATRON THE BARBARIAN! From Cybertron's ancient past came the warrior-king, GALVATRON. Once, he united CYBERTRON and ushered in a Golden Age. Now, he wants to do the same to Earth… but OPTIMUS PRIME has a problem with that plan.
FC • 32 pages • $3.99



Transformers: Windblade #3 (of 4): Dawn of the Autobots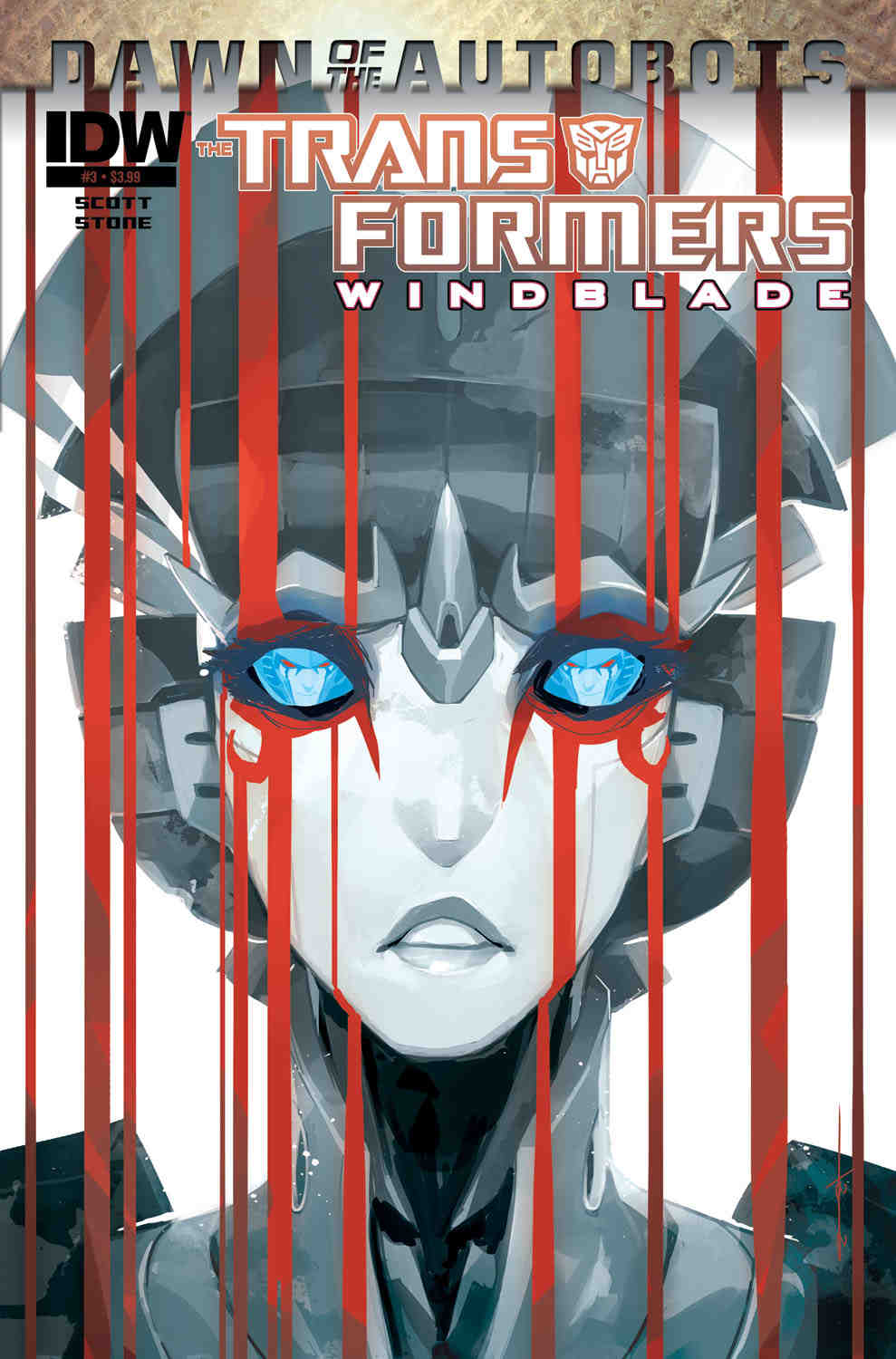 Mairghread Scott (w) • Sarah Stone (a & c)
THE FATE OF CYBERTRON! WINDBLADE learns more about the new face of CYBERTRON—and lesson number one is: never underestimate STARSCREAM! She's trapped in a no-win situation—but what is the scheming DECEPTICON really after, and how far will he go to keep WINDBLADE out of his way?
FC • 32 pages • $3.99



Transformers: Spotlight Drift Director's Cut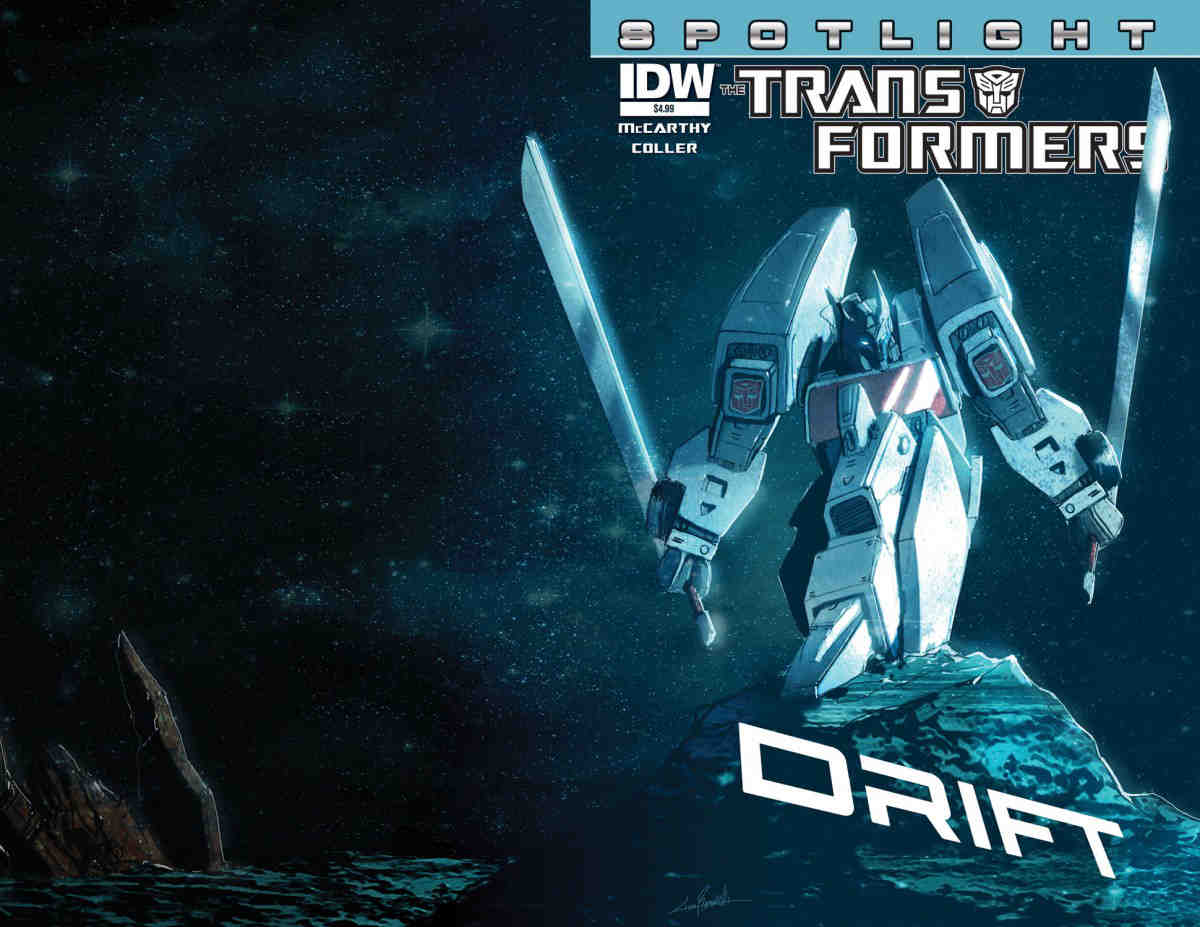 Shane McCarthy (w) • Casey W. Coller (a) • Livio Ramondelli (c)
ALL HAIL DRIFT! From his debut, the former DECEPTICON called DRIFT has been one of the most controversial—and popular—TRANSFORMERS characters! Now relive his first solo adventure with an outstanding array of behind-the-scenes material! Learn how DRIFT went from a supporting character in a comic book to a toy—and how he became a part of the TRANSFORMERS mythology!
FC • 48 pages • $4.99


Transformers: Dark Cybertron, Vol. 2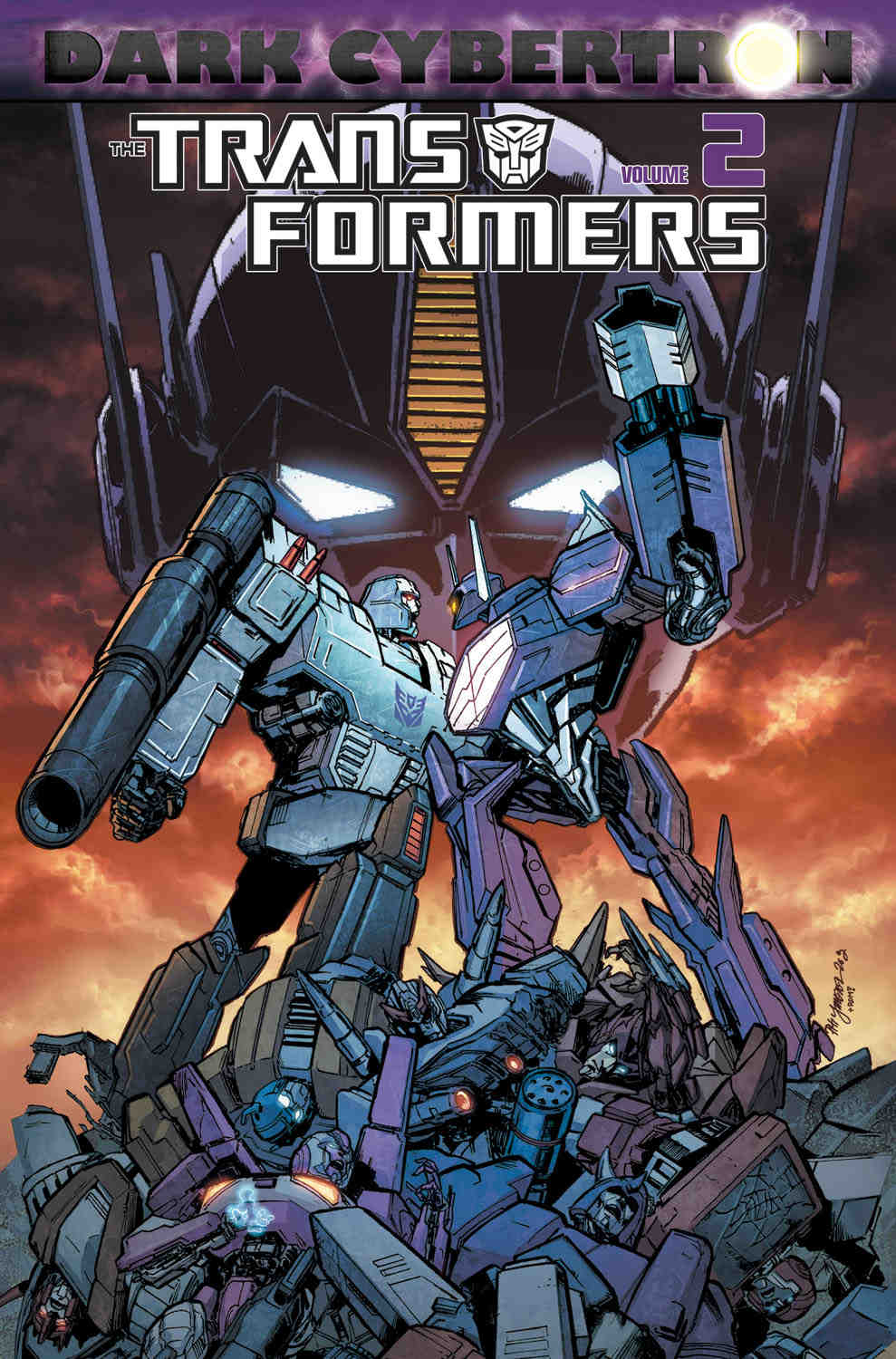 James Roberts, John Barber (w) • Atilio Rojo, James Raiz, Livio Ramondelli, Andrew Griffith, Phil Jimenez, Brendan Cahill (a) • Phil Jimenez (c)
The conclusion to the 12-part epic DARK CYBERTRON! OPTIMUS PRIME and MEGATRON join forces against SHOCKWAVE! Titans clash and the ultimate battle will leave the planet changed forever.
TPB • FC • $19.99 • 152 pages • ISBN: 978-1-61377-998-9



Transformers Classics, Vol. 7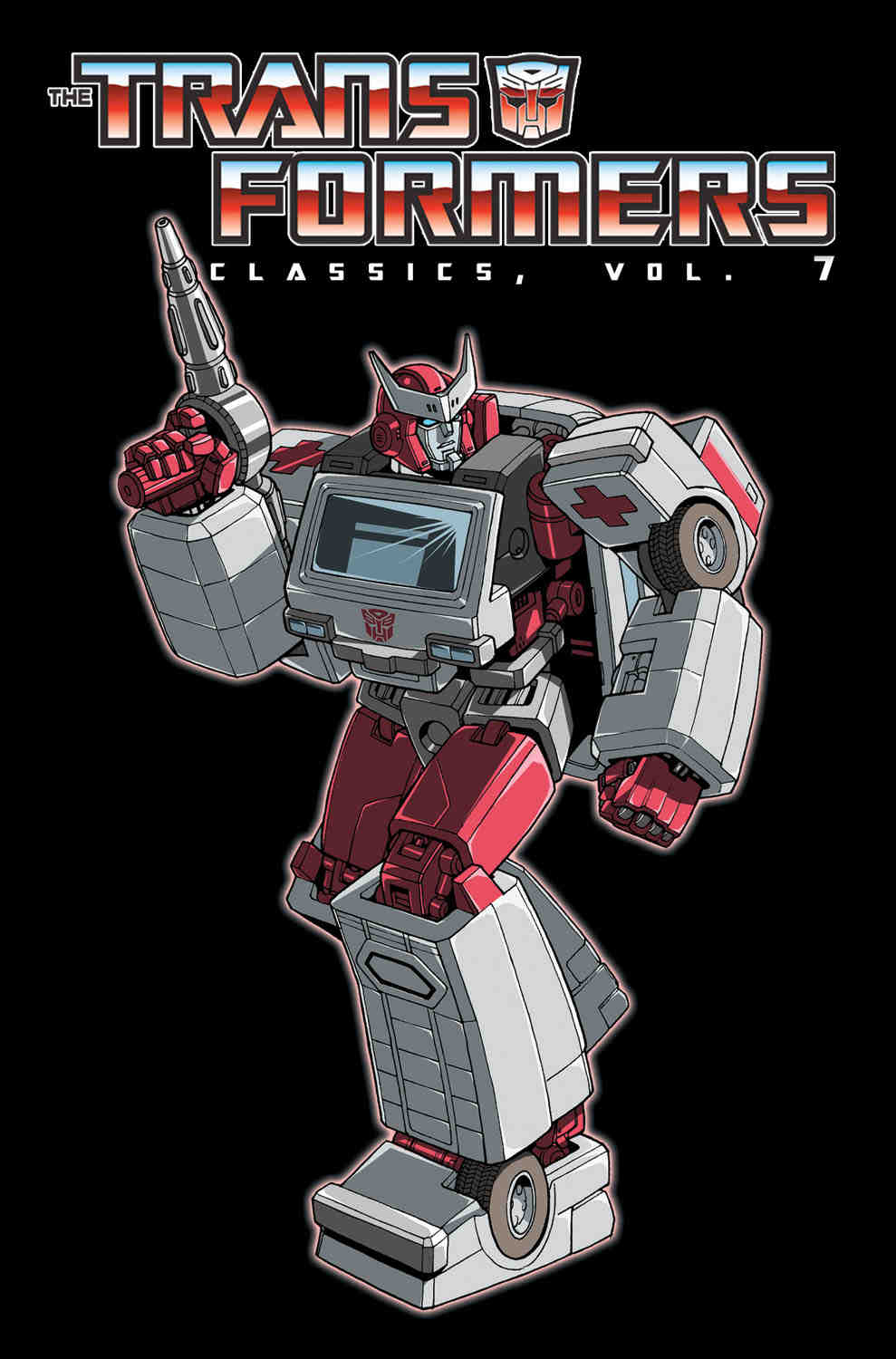 Simon Furman, Bob Budiansky, Ralph Macchio (w) • Andrew Wildman, Frank Springer, Don Perlin (a) • Guido Guidi (c)
The historic roots of The Transformers are re-presented for maximum Cybertronian enjoyment. Collects issues #77–80, the Headmasters four-issue series, and the three-issue Movie Adaptation. Freshly re-mastered and re-colored, these stories are accompanied by an in-depth introduction as well as select issue notes by Mark W. Bellomo.
TPB • FC • $29.99 • 276 pages • ISBN: 978-1-61377-987-3



Transformers: All Hail Megatron Deluxe Limited Hardcover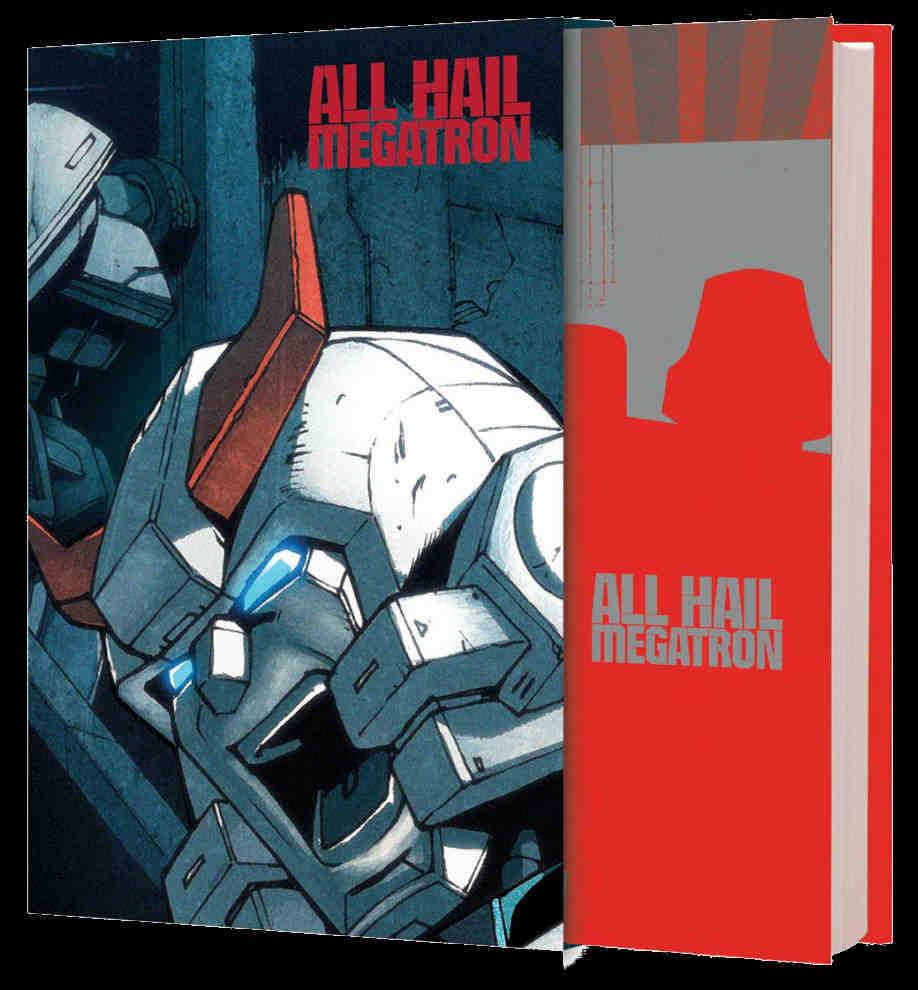 Shane McCarthy, Simon Furman (w) • Guido Guidi (a)
This limited-edition hardcover of Transformers: All Hail Megatron is signed by Shane McCarthy and Trevor Hutchison and hand-numbered to 350. This collection of the complete series has been packaged and presented in beautiful hand-assembled casing and silver metallic covers.
HC w/slipcase • FC • $125.00 • 492 pages • ISBN: 978-1-63140-031-5






(All release date information is subject to change).