JANUARY


Transformers Regeneration One #98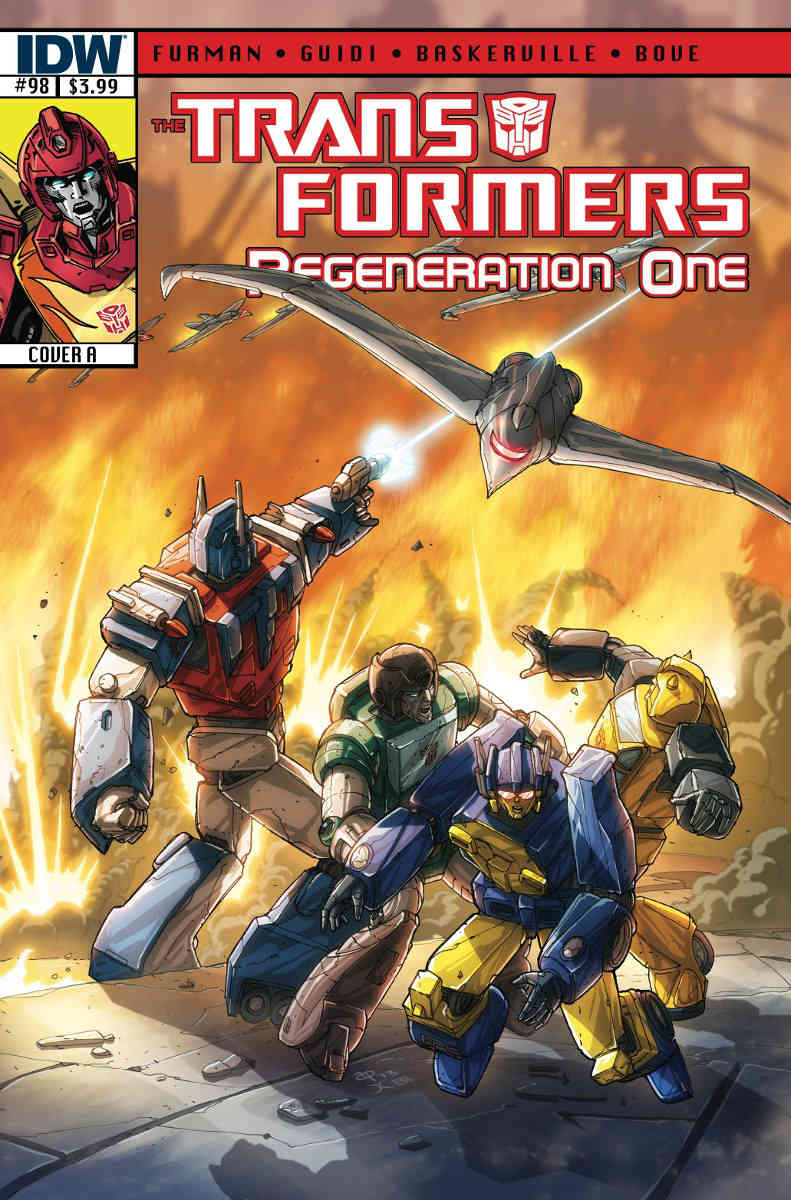 Simon Furman (w) • Guido Guidi (a) • Andrew Wildman, Guidi (c)
INVASION! And it's the Autobots doing the invading! RODIMUS PRIME takes action, leading an armada into the heart of JHIAXUS' forces—but is he playing straight into the villain's hands? Plus, FORTRESS MAXIMUS re-enters the fray, but on whose side? Oh, and STARSCREAM's past comes back to haunt him… big time!
FC • 32 pages • $3.99



Transformers: More Than Meets the Eye #25: Dark Cybertron Part 6 (of 12)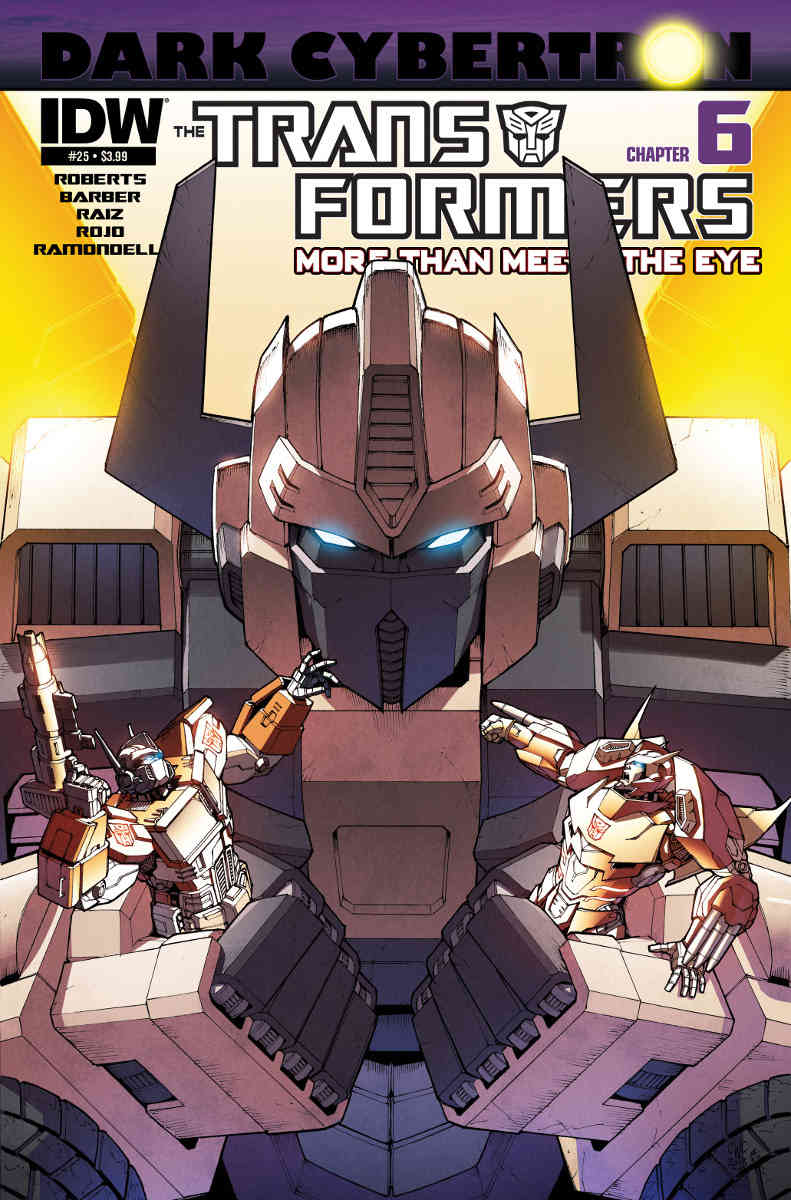 James Roberts & John Barber (w) • Atilio Rojo, James Raiz, Livio Ramondelli (a) • Casey W. Coller (c)
A HERO FALLS—AND ONE RETURNS! The struggle in the DEAD UNIVERSE heats up as ORION PAX—the 'bot who was once OPTIMUS PRIME—and RODIMUS struggle with the legacy of PRIMES! Meanwhile, the Lost Light is under attack in deep space—and SHOCKWAVE and the terrifying NECROTITAN threatens CYBERTRON!
FC • 32 pages • $3.99


Transformers: Robots in Disguise #25: Dark Cybertron Part 7 (of 12)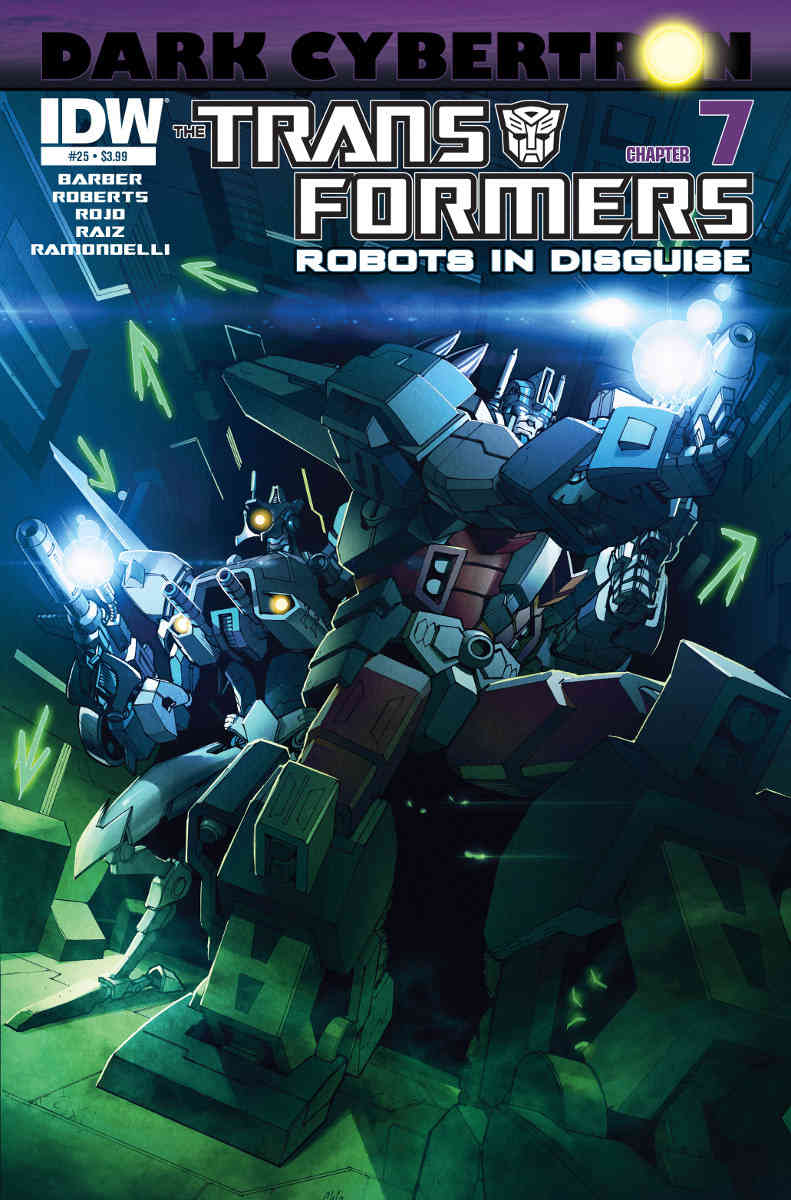 John Barber & James Roberts (w) • Atilio Rojo, James Raiz, Livio Ramondelli (a) • Casey W. Coller (c)
WHAT LIES BENEATH! ULTRA MAGNUS leads what's left of the Lost Light crew deep into the last place they ever thought they'd be—and they find they last CYBERTRONIANS they ever expected to find! Meanwhile: MEGATRON versus GALVATRON: Round One!
FC • 32 pages • $3.99


Transformers: Regeneration One, Vol. 3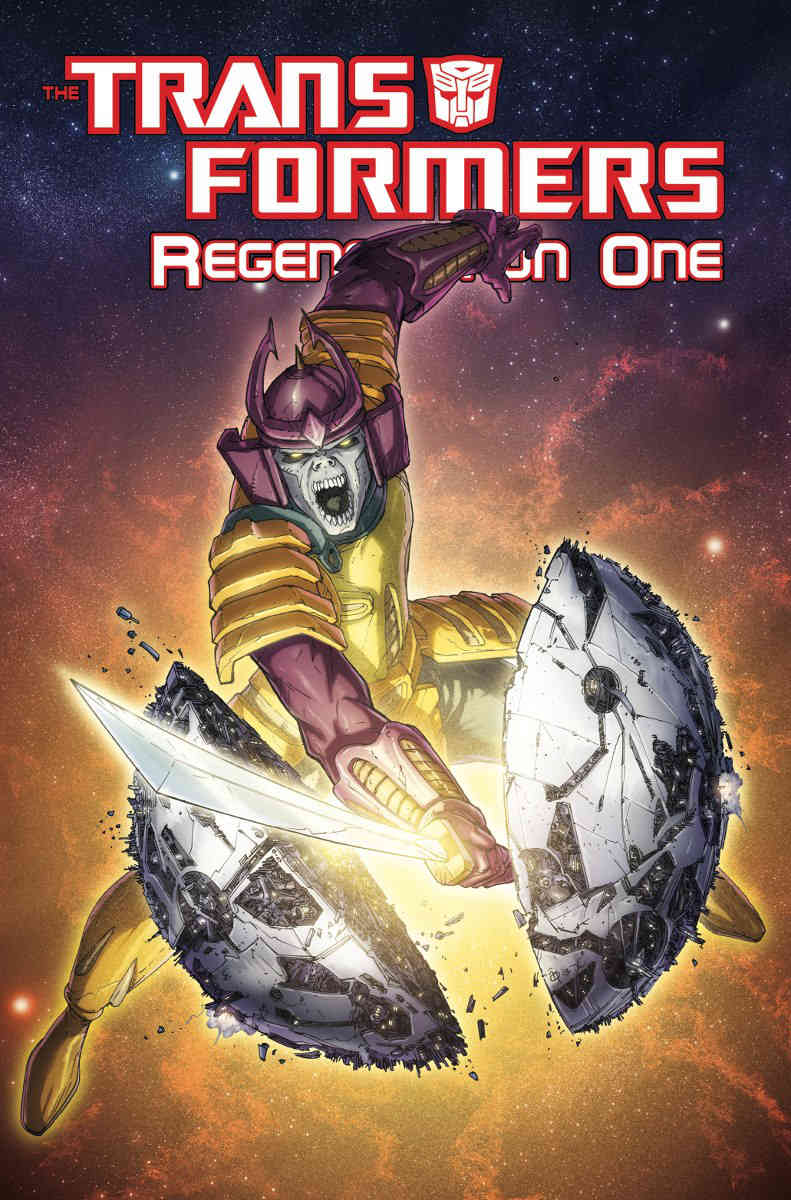 Simon Furman (w) • Andrew Wildman, Guido Guidi, Jeff Anderson, Stephen Baskerville, Casey W. Coller, Jose Delbo, Nick Roche, Geoff Senior (a) • Wildman (c)
The very fabric of the TRANSFORMERS' universe begins to unravel, as huge and ancient cosmic forces take note of CYBERTRON's (and the CYBERTRONIANS') descent into chaos and anarchy.
TPB • FC • $19.99 • 152 pages • ISBN: 978-1-61377-857-9



FEBRUARY


Transformers Regeneration One #99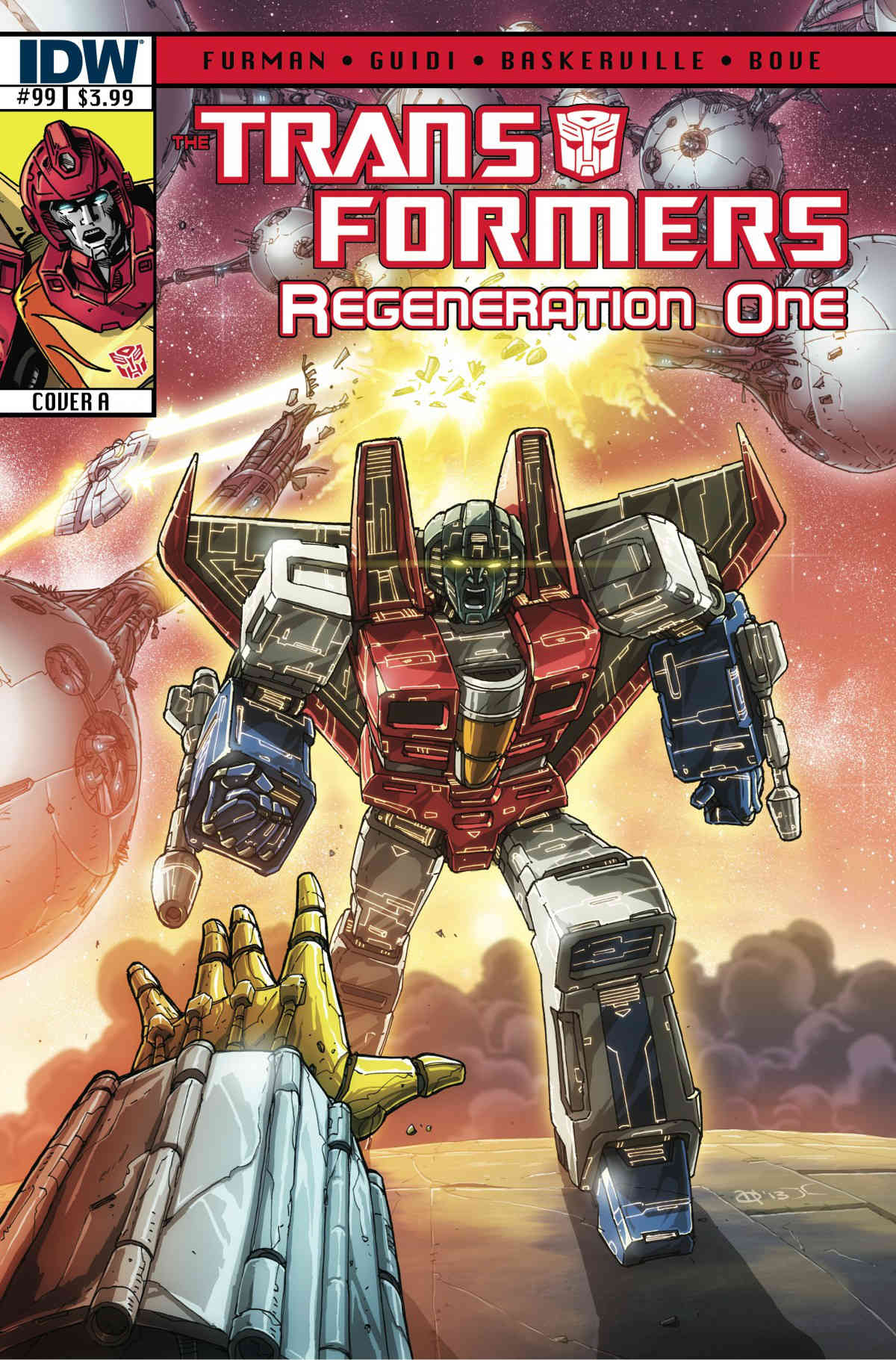 Simon Furman (w) • Guido Guidi (a) • Andrew Wildman, Guidi (c)
THE WAR TO END ALL WARS! Can the Autobots prevail against JHIAXUS' New Cybertronian Empire? The disastrous invasion ends in dramatic and shocking fashion with twists, shocks and surprises galore, and STARSCREAM right in the thick of things. Dark forces are stirring for the final chapter of the original TRANSFORMERS epic!
FC • 32 pages • $3.99


Transformers: More Than Meets the Eye #26: Dark Cybertron Part 8 (of 12)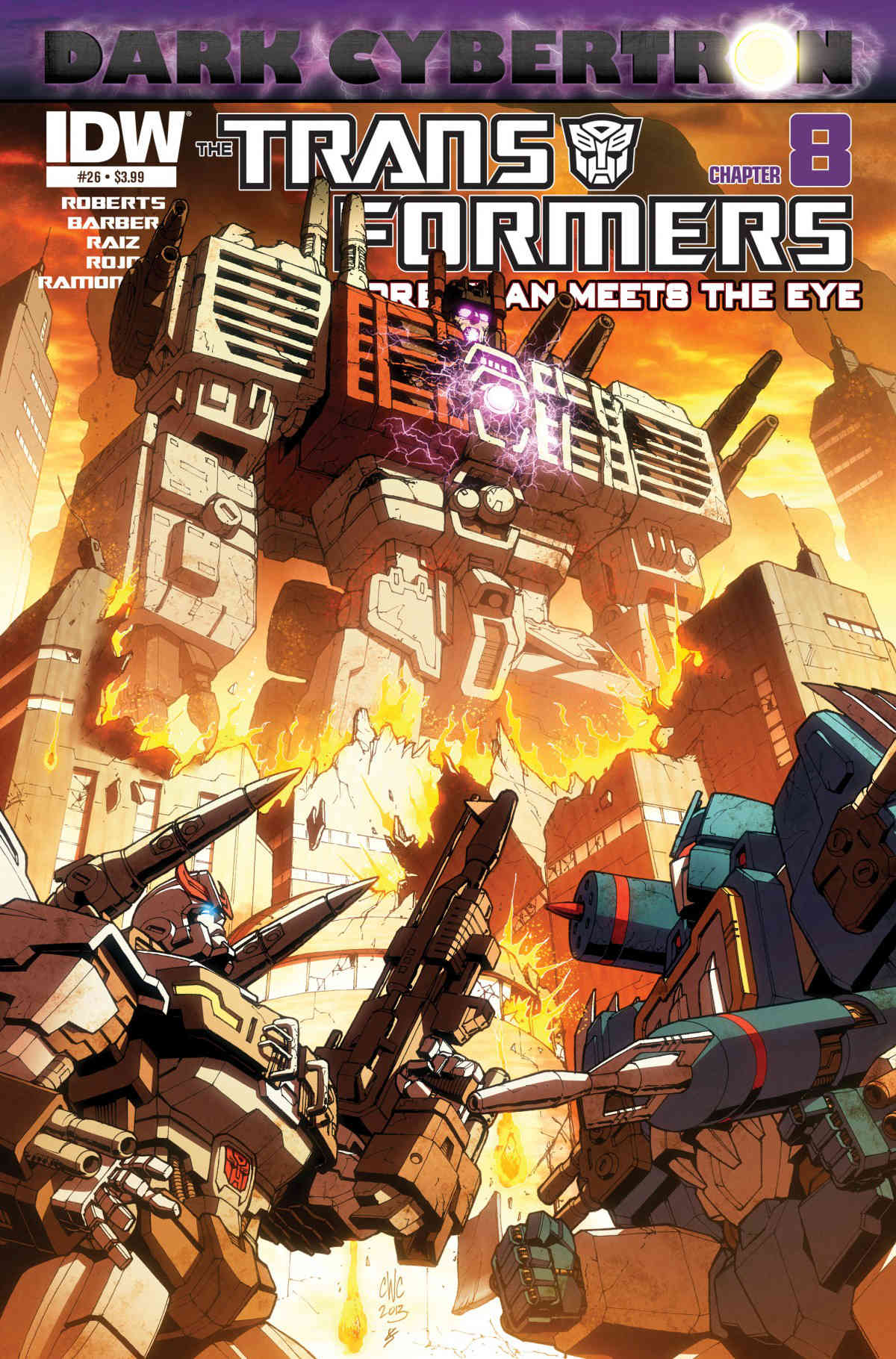 James Roberts & John Barber (w) • Atilio Rojo, James Raiz, Livio Ramondelli (a) • Casey W. Coller (c)
CYBERTRON FALLS! The monstrous NECROTITAN ravages the world—but is there anyone left to save it? Meanwhile, in deep space, ULTRA MAGNUS and the crew of the LOST LIGHT struggle to make sense of what they find in the depths of the scarlet sea!
FC • 32 pages • $3.99


Transformers: Robots in Disguise #26: Dark Cybertron Part 9 (of 12)


John Barber & James Roberts (w) • Andrew Griffith, Livio Ramondelli (a) • Casey W. Coller (c)
THE BIG ONE! This is it—the battle every TRANSFORMERS reader has dreamed of! Titans clash on CYBERTRON! The fate of the LOST LIGHT! And ORION PAX fights fist-to-face against his ultimate nemesis! And from here on? Things only get bigger!
FC • 32 pages • $3.99



MARCH




Transformers Regeneration One #100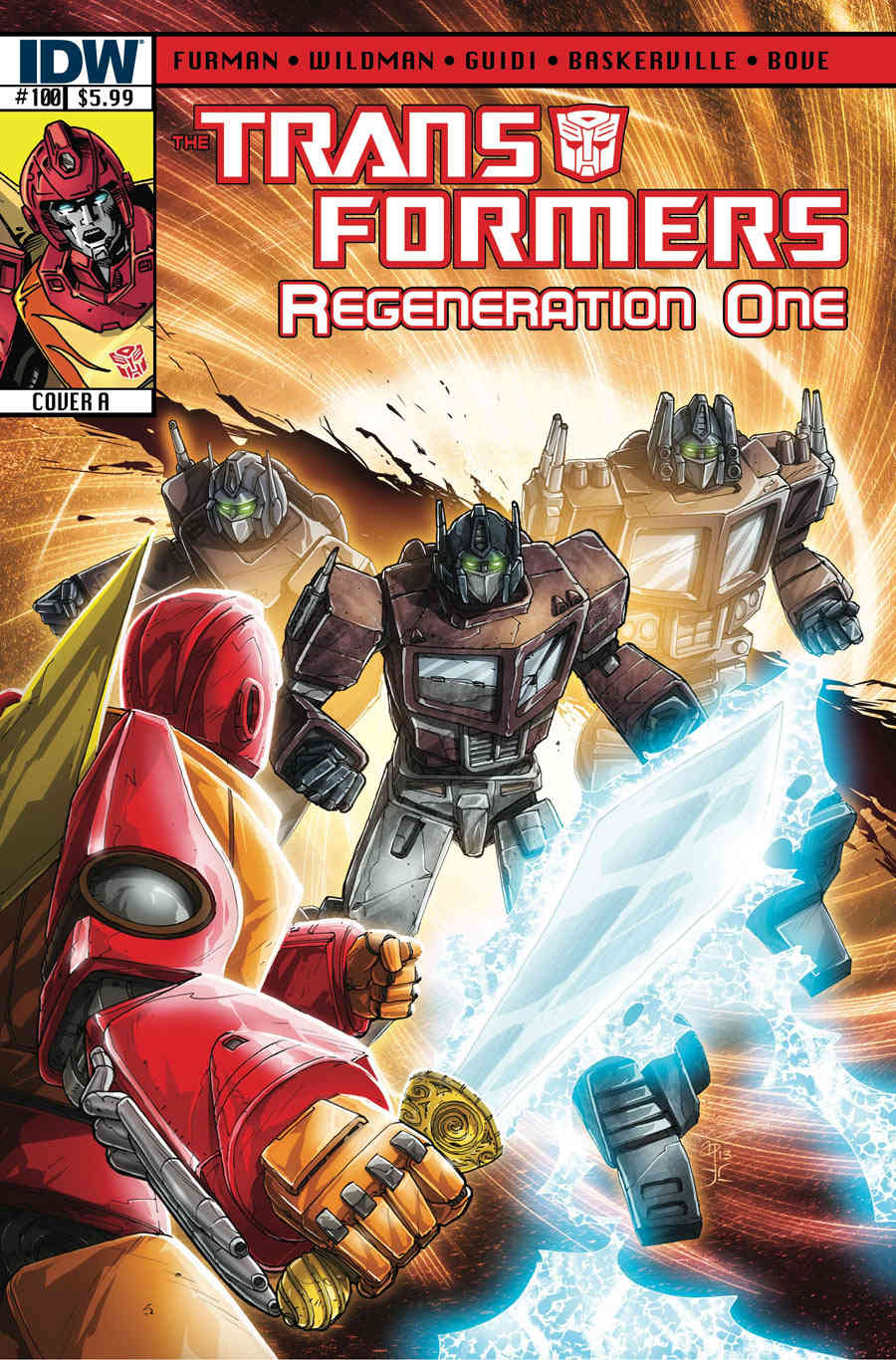 Simon Furman (w) • Andrew Wildman & Guido Guidi (a) • Andrew Wildman, Guidi (c)
THE GREATEST ENEMY... the greatest challenge... shall come from within. And there will be an ending. This is it, the battle the TRANSFORMERS must win, and yet dare not. The original and founding TRANSFORMERS comic comes to an epic and giant-sized conclusion, with all-out battle on CYBERTRON. Or should that be "Cybertrons"? Shocks, surprises, guest stars and more. It may be a cliché, but this one really does have it all.
FC • 48 pages • $5.99





Transformers: More Than Meets the Eye #27: Dark Cybertron Part 10 (of 12)




James Roberts & John Barber (w) • Alex Milne & Livio Ramondelli (a) • Casey W. Coller (c)
TOGETHER AT LAST! The crew of the Lost Light and the survivors of CYBERTRON get a brief moment of calm as they take stock of who's survived DARK CYBERTRON this far. But things get worse—the final fate of the DEAD UNIVERSE reveals a nightmarish link to the greatest threat the universe has ever faced!
FC • 32 pages • $3.99



Transformers: Robots in Disguise #27: Dark Cybertron Part 11 (of 12)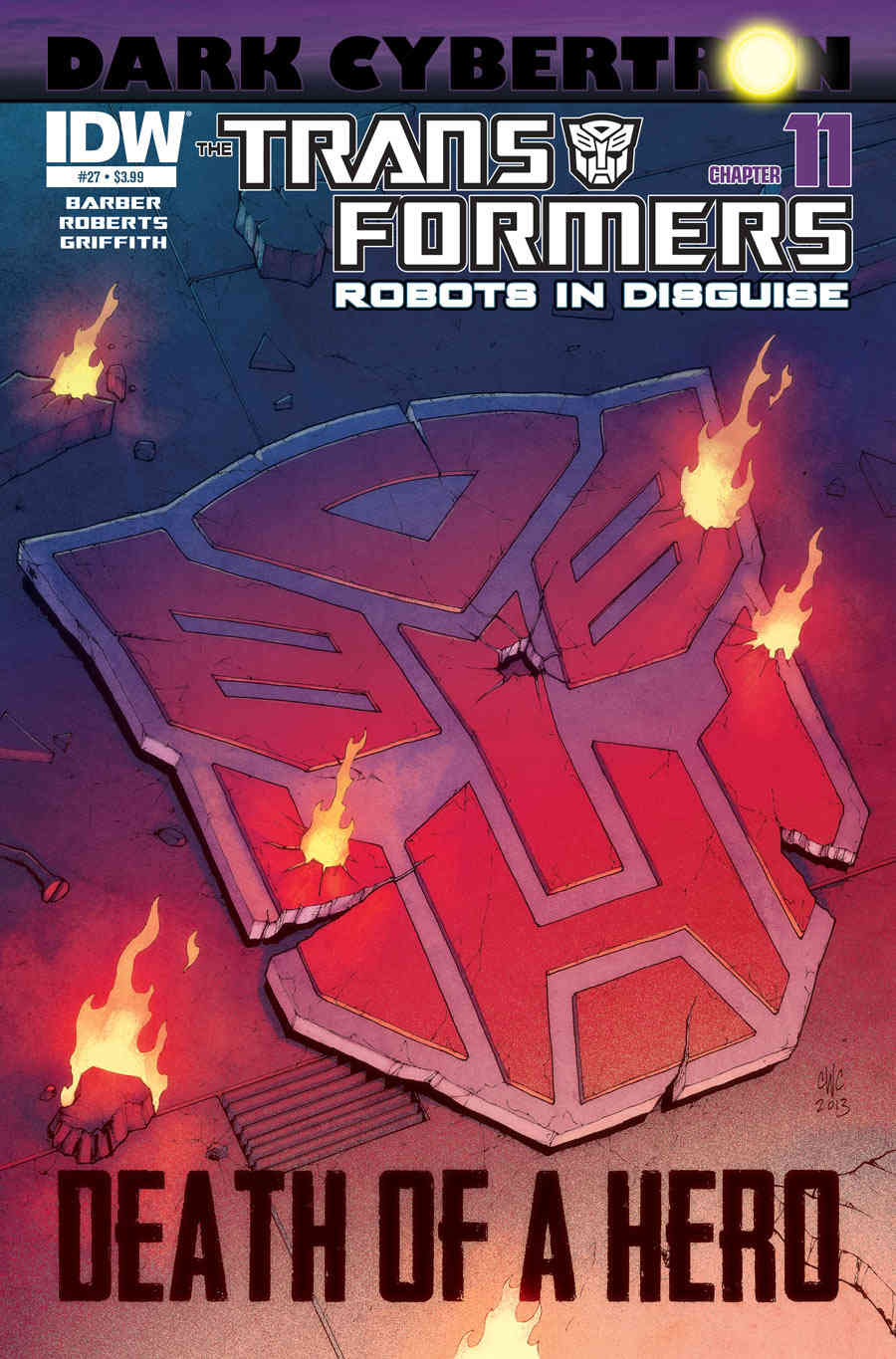 John Barber & James Roberts (w) • Andrew Griffith (a) • Casey W. Coller (c)
DEATH OF A HERO! BUMBLEBEE! RODIMUS! ULTRA MAGNUS! PROWL! One will fall in final battle with SHOCKWAVE! This one is for all the marbles, folks—it just doesn't get any bigger than this!
FC • 32 pages • $3.99



Transformers: Dark Cybertron Finale — Part 12 (of 12)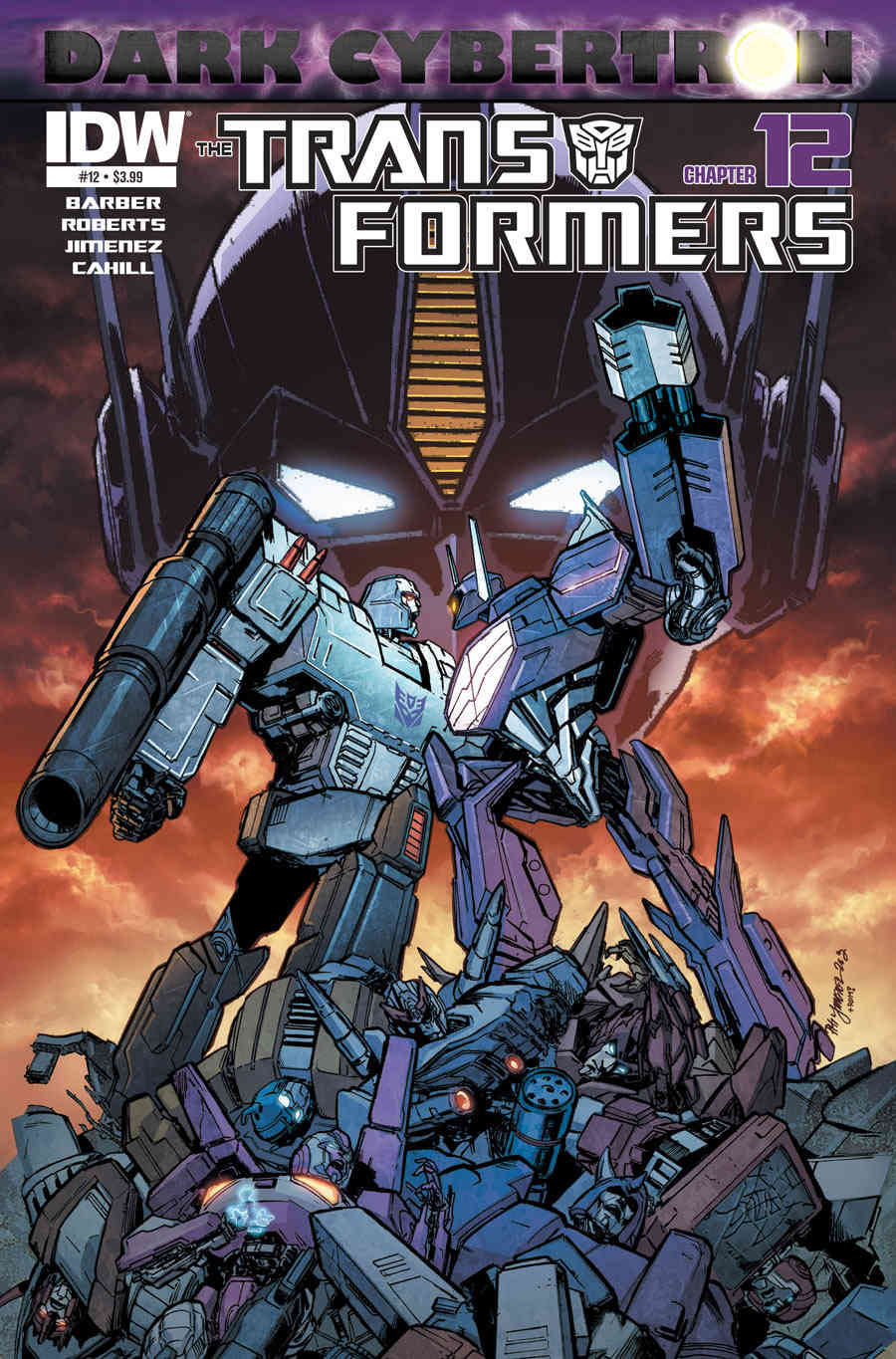 John Barber & James Roberts (w) • Phil Jimenez & Brendan Cahill (a) • Phil Jimenez (c)
IT GETS EVEN BIGGER! Okay we lied when we were talking about last issue… but this issue is as big as they come. It's all come down to this moment—every scheme, every lie, every moment of heroism, every relationship, every rivalry… if CYBERTRON falls, so falls the universe!
FC • 32 pages • $3.99





Transformers Prime: Beast Hunters, Vol. 2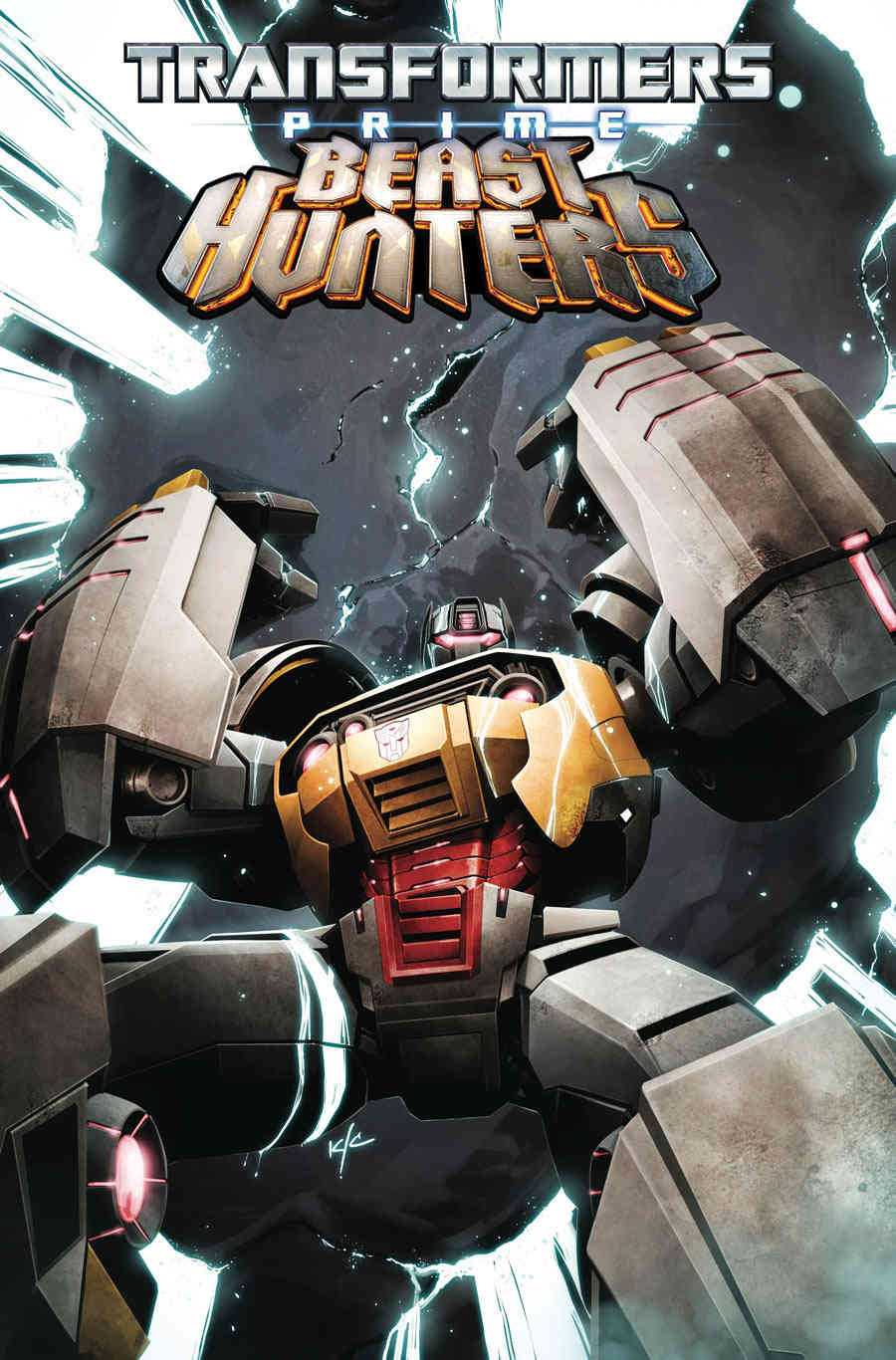 Mairghread Scott, Mike Johnson (w) • Agustin Padilla (a) • Ken Christiansen (c)
As the Dinobots lend a hand to their fellow underground Autobots things quickly go awry as the very planet begins to quake and shift. Is Cybertron crumbling to its ultimate death or will it be reborn?
TPB • FC • $17.99 • 104 pages • ISBN: 978-1-61377-926-2




(All release date information is subject to change).